U.S. Navy Orders Nine More Arleigh Burke Destroyers for Undisclosed Price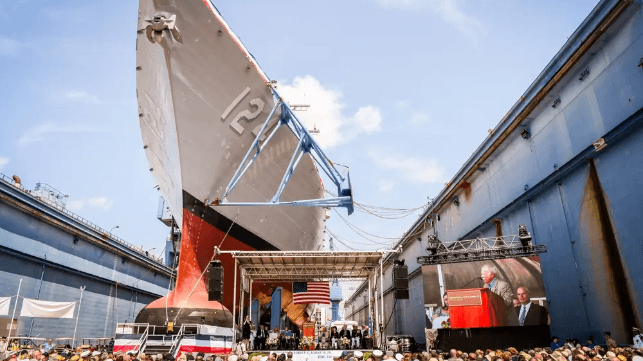 The U.S. Navy has awarded a pair of large block buy contracts for a total of nine additional Arleigh Burke-class destroyers, which are the backbone of the surface combatant fleet. Unlike past order announcements, the prices were not disclosed.
The contracts are split between General Dynamics Bath Iron Works in Maine (BIW) and Huntington Ingalls Industries (HII), which builds Arleigh Burke-class hulls at its Ingalls Shipbuilding yard in Mississippi. The two yards are the only producers of Navy destroyers and were the only two bidders. They will continue to produce this mission-critical vessel class until the debut of the as-yet-undesigned DDG(X) future destroyer.
The contracts are for the upgraded Flight III variant of the Arleigh Burke-class, which has an improved air defense radar, a variety of structural adjustments to enhance survivability, better ballistic protection, and new damage control systems for firefighting and dewatering. HII delivered the first Flight III in June.
BIW won orders for three destroyers, one each in FY2023, FY2024 and FY2026. HII took home the remaining six. The contracts have options for additional vessels after the series are completed.
The disparity in the size of the awards is not new, and it reflects BIW's long effort to speed up and meet production targets. Bath's latest destroyer delivery, the USS Carl M. Levin, was originally scheduled to enter service in 2020; its commissioning was held in June 2023.
BIW has been slowed by labor problems, including a generational turnover in its workforce and a wave of retirements during the pandemic. The generally tight labor market is a challenge for all manufacturers, and the defense shipbuilding industry has to compete for young new hires who have options with many employers - including Bath's sole customer, the U.S. Navy. "We're both hiring and we're hungry for talent," Chief of Naval Operations Adm. Mike Gilday said during a visit to the Bath shipyard in April.
BIW has invested in recruitment and apprenticeship programs to help fill gaps in its lineup. It is currently negotiating a new collective bargaining agreement with IUMSWA Local S6, its shipbuilders' union; the last round of talks, in 2020, resulted in a two-month strike.
The 1980s-era Arleigh Burke-class design was supposed to sunset years ago, and it would have been replaced in production by the futuristic Zumwalt-class, also built by Bath. That plan was scrapped when issues with the Zumwalt's cost and performance prompted the Navy to scuttle the program. The continually-upgraded Arleigh Burke remains the service's go-to platform for a multirole destroyer. The Navy's future DDG(X) will be larger and will have more room for lifecycle upgrades.