U.S. Navy Gets Two New High-Tech Vessels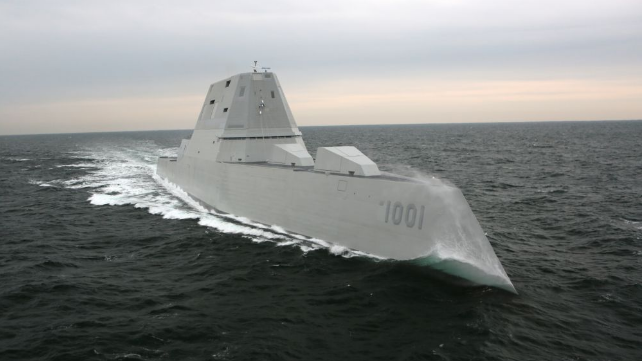 The U.S. Navy is taking delivery of two new high-tech additions to its fleet: the Medium Displacement Unmanned Surface Vehicle (MDUSV, ex names Sea Hunter, ACTUV) and the USS Michael Monsoor, the second of three Zumwalt-class destroyers.
Both vessels have a distinctive wave-piercing bow, and both are painted haze gray, but that is where the similarity ends. ACTUV is a 140-ton, fiberglass-hulled trimaran with a unit cost of about $20 million. It features a semi-autonomous navigation system that could one day allow it to operate without crew, reducing both risk and costs. Monsoor is a full-size surface combatant with a unit cost in the ten figures and a crew of 150.
After several years of trials, it has been transferred from the Defense Advanced Research Projects Agency (DARPA) to the U.S. Navy's Office of Naval Research (ONR).
"ACTUV represents a new vision of naval surface warfare that trades small numbers of very capable, high-value assets for large numbers of commoditized, simpler platforms that are more capable in the aggregate," said Fred Kennedy, director of DARPA's Tactical Technology Office. "The U.S. military has talked about the strategic importance of replacing 'king' and 'queen' pieces on the maritime chessboard with lots of 'pawns,' and ACTUV is a first step toward doing exactly that."
ONR plans additional at-sea tests to further develop the technology. "In particular, we are already working on autonomous control, a challenging area that is key to maturing MDUSV and delivering it to the fleet," said ONR program officer Robert Brizzolara. ONR also plans to develop new mission-specific autonomous behaviors and to explore autonomous coordination among multiple USVs. If these tests are successful, Sea Hunter could be transferred to a front line unit (likely in Third Fleet) for use in the field. DARPA predicts that this could happen within the year.
The USS Michael Monsoor is at the other end of the cost and size spectrum. The $1.4 billion destroyer displaces almost 15,000 tons, putting her in the size range of the USS Long Beach, the United States' last full-size cruiser design. The Monsoor features a complex integrated power system (IPS), which is designed to make the output of her giant gas turbines available for either propulsion or for advanced future energy weapons like railguns or lasers.
The Monsoor's IPS suffered a minor problem during builder's trials in December when a harmonic filter failed, forcing her to return to the shipyard. The filters prevent power fluctuations that could damage her high-tech electronics. At acceptance trials last month, many of her systems met or exceeded requirements, the Naval Sea Systems Command said in a statement. Monsoor is headed for delivery in March and will be commissioned next year.