U.S. Industry Groups Organize to Oppose Tariffs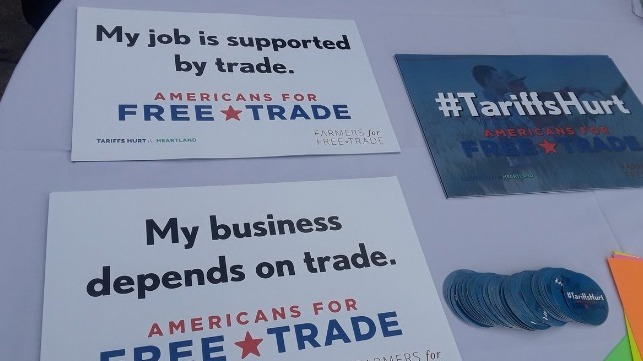 The American Petroleum Institute, the American Association of Port Authorities, the National Retail Federation and a wide array of business associations are banding together to voice their opposition to the Trump administration's escalation of tariffs on Chinese goods.
On Monday, U.S. President Donald Trump announced the imposition of 10 percent tariffs on an additional $200 billion in imports from China, including consumer goods like electronics, food, toys and furniture. The tariff rate on this list is set to expand to 25 percent by the end of the year. The new round is in addition to two previous sets of tariffs covering a combined $50 billion in Chinese goods.
American industries exposed to trade, including the American ports sector, suggested that the move would hurt their interests.
"The impact of expanding Section 301 tariffs on cargo and equipment moving through American ports is already proving to be significant," warned AAPA President and CEO Kurt Nagle in a response issued Tuesday. "Including the additional $200 billion just imposed, the total Section 301 tariffs on Chinese commodities and China's response in retaliation responses covers about 10 percent of all trade that moves through America's ports by value, which is concerning."
Nagle said that the AAPA encourages federal policymakers to move away from tariffs and back towards trade-friendly policies. On a positive note, he added that the administration had agreed to remove port cranes from the sanctions list, an important consideration for America's deepwater ports as they upgrade terminals to handle larger ships.
The American Petroleum Institute, the largest American oil and gas association and one of the leading voices for the offshore sector, also voiced its opposition to the tariff expansion.
"We understand the need to address discriminatory trade practices, but this policy will essentially impose a new tax on $200 billion worth of products on which American families and businesses rely," said API Vice President for Economic Policy Kyle Isakower in a statement. "The U.S. natural gas and oil industry delivers affordable and abundant energy to households and businesses across the country, strengthening the U.S. economy every day. However, this current trade dynamic works against U.S. energy sector growth and counter to the Administration's stated goal of 'energy dominance'."
Pro-trade industry groups organize
Last week, 80 trade associations - including the AAPA, API and the National Retail Federation - announced the formation of Americans for Free Trade, an umbrella group aimed at opposing tariffs and highlighting the benefits of international trade. It is joining Farmers for Free Trade on a nationwide PR campaign called "Tariffs Hurt the Heartland."
"Every sector of the U.S. economy stands to lose in a trade war," NRF President and CEO Matthew Shay said. "The stakes couldn't be higher for American families, businesses, farmers and workers threatened by job losses and higher prices as a result of tit-for-tat tariffs."
"Together, we will ensure that Washington understands the real-life consequences of tariffs for communities across the country," said Tariffs Hurt spokesman Jonathan Gold. "Our goal is to get the administration to end the trade war and return to creating opportunity through trade for American businesses, farmers and workers."