U.S. Coast Guard Seizes $30M Worth of Heroin and Meth in Gulf of Oman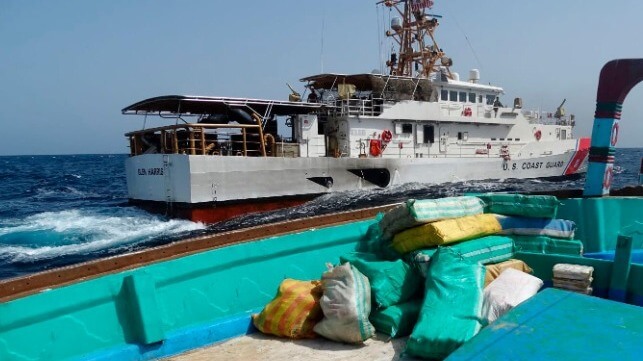 A U.S. Coast Guard cutter made a major drug bust in the Gulf of Oman on Monday, seizing more than $30 million of heroin and meth from aboard a fishing vessel.
Fast response cutter USCGC Glen Harris was operating in support of Combined Maritime Forces (CMF) Combined Task Force 150 (CTF 150) in the Gulf of Oman when the crew spotted a suspicious vessel. Upon boarding, they found 580 kilos of methamphetamine and another 35 kilos of heroin.
"The dedication and expertise of Glen Harris's leadership and crew embody our commitment to interdict and remove illicit narcotics from the sea, denying malign actors the ability to destabilize the region," said Capt. Eric A. Helgen, commander of Patrol Forces Southwest Asia. "I could not be more proud of our fast response cutter crews."
Glen Harris is one of six fast response cutters forward-deployed to U.S. 5th Fleet. As in other regions, the small but capable vessels have acquitted themselves well. Glen Harris' crew seized another $48 million worth of drugs in a boarding last October, another $20 million worth of hash and amphetamine in August 2022, and $28 million worth of heroin and meth in two busts in May 2022.
CTF-150 is a division of a multinational naval force, Combined Maritime Forces, which was created in 2001 to ensure maritime security in the Persian Gulf. Each task force is led on a rotational basis by officers from CMF's member nations, and CTF-150 is currently headed up by the Royal Navy.
The task force's area of responsibility was split in two last year, and the western half - the Red Sea and the Gulf of Aden - is now managed by the newly-formed CTF-153. CTF-153 will tackle smuggling in the Red Sea and Gulf of Aden - a perennial area of illegal activity in the region. CTF-150 retains responsibility for the Gulf of Oman and the Northern Arabian Sea.