U.S. Coast Guard Offloads Five Tonnes of Cocaine in San Diego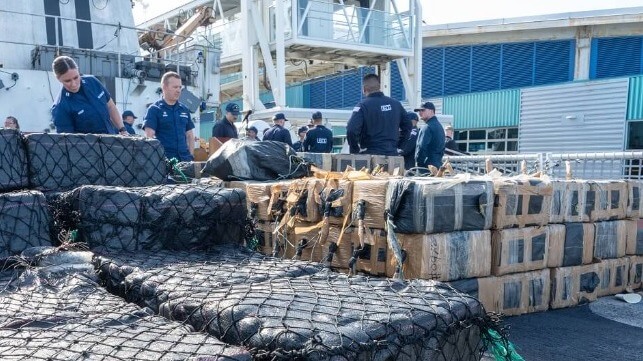 On Monday, the crew of the U.S. Coast Guard Cutter Steadfast offloaded more than five tonnes of cocaine worth about $160 million in San Diego, marking the latest in a long series of successful interdiction voyages.
The intercepts were carried out in the Eastern Pacific between May and July by crews of the cutters Vigilant, Mohawk and Steadfast. All three are aging medium-endurance (WMEC) cutters, and are still performing their duties long after any merchant ship would be sent for recycling. Mohawk, the youngest, delivered just a few months before the fall of the Berlin Wall. Steadfast was commissioned during the Johnson administration, and Vigilant celebrates her 60th year in service next year. Like all WMECs, their retirements must wait until replacements are delivered from the Offshore Patrol Cutter (OPC) program; in the meantime, Coast Guard crews keep the platforms running and operational.
"The crews of the Coast Guard cutters Vigilant, Mohawk and Steadfast worked diligently to combat transnational organized crime, disrupt drug flow and prevent a significant amount of drugs from reaching the U.S.," said Rear Adm. Andrew Sugimoto, commander of the Coast Guard Eleventh District. "Their unwavering commitment while interdicting drug smugglers at sea is not only commended, but their continued efforts are unmatched."
The effort in the Eastern Pacific involves most federal law enforcement and border control agencies, along with the U.S. Navy, U.S. Southern Command, and regional partner governments. The Coast Guard paid thanks to the Mexican Navy (SEMAR) for its contributions to this round of drug busts.
"Nothing is guaranteed when a Coast Guard crew says 'goodbye' to loved ones and embarks on a multi-month patrol," said Cmdr. Brock Eckel, commanding officer of the Steadfast. "However, our team worked incredibly hard, day-and-night, to stop three smuggling vessels, preventing more than five tons of illicit narcotics from reaching American soil."
Using the jurisdiction of Coast Guard 11th District, U.S. Coast Guard teams conduct all interdictions and boardings under the program.