U.S. Coast Guard, FDNY Respond to Fire on Asphalt Tanker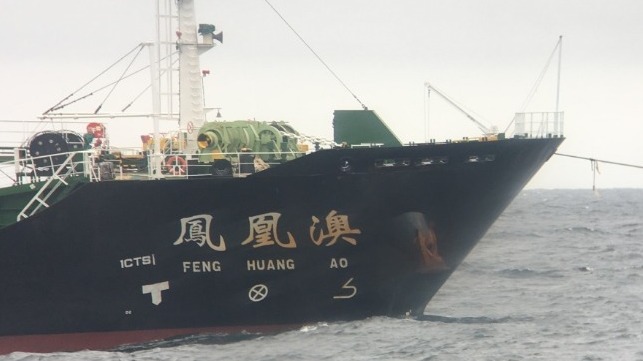 On Monday, the U.S. Coast Guard and New York City's fire department made arrangements for a fire-damaged asphalt tanker to safely enter New York Harbor for repairs.
The tanker Feng Huang Ao suffered an engine room on October 5 while she was under way off Nantucket, bound for New York with a load of asphalt. Her crew extinguished the blaze with a CO2 fixed firefighting system, and no injuries or pollution were reported. However, the ship's main engine and auxiliary generators were damaged and disabled by the fire.
The USCG cutter Legare and commercial salvage tugs were dispatched to the scene to assist. Salvors successfully passed a towline on Friday, according to the Martha's Vineyard Times, and the tow was under way for New York on Sunday morning. On Monday, Coast Guard Sector New York and FDNY inspectors boarded the Feng Huang off New York Harbor to ensure her safety before allowing her to enter port.
"This was a significant engine room fire that damaged a number of vessel systems, and we are fortunate there were no injuries," said Capt. Jason Tama, commander of Coast Guard Sector New York. "The assistance and expertise provided by FDNY marine firefighters was essential to the safe resolution of this case."
The Feng Huang is operated under charter by Valt, a firm connected to trading house Vitol, according to a company spokesperson. She was built in 2016 and is owned by a firm sharing Valt's Rotterdam address.
As of Tuesday, the Feng Huang was moored at a pier at Staten Island, New York. The Coast Guard says that the cause of the fire in her engine room is still under investigation.