U.S. Bargebuilder Jeffboat Closes its Doors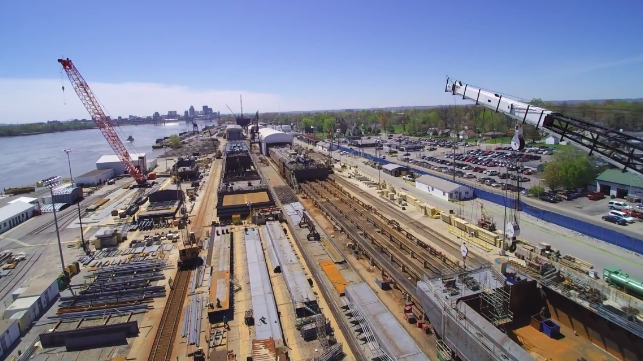 On Friday, Ohio bargebuilder Jeffboat informed its remaining employees that it will be closing its doors. The firm employed up to 1,300 people just a few years ago, but after several rounds of layoffs it has shrunk to about 220 today.
Teamsters Local 89 reported the news on its site on Saturday. "The loss of these jobs is devastating but experienced and highly trained union sisters and brothers always prevail in the end. We dust ourselves off, pick up the pieces and we move on to our next adventure," said the local's business agent and recording secretary, Jeff Cooper. "In the near future we will be meeting with the employer to bargain the effects of the closure with the goal of securing all the right and benefits that they are entitled to."
Parent company American Commercial Lines confirmed the news on Monday and attributed the decision to an oversupply of barges on the market. "The outlook for new barge construction is very poor for the foreseeable future," ACL said. "With orders running out and no future backlog of business, the shipyard will launch its last barge sometime in the middle of April." Sister company American Commercial Barge Line will not be affected.
At the peak of its operations in World War II, Jeffboat employed 13,000 workers, and for decades it laid claim to the title of the biggest inland boatbuilder in the United States. The company has shut down before during industry downturns, and could potentially reopen when the next business cycle comes around for bargebuilding. ACL has not yet decided on what to do with the shipyard site, which has been Jeffboat's home since 1834.
A smaller bargebuilder, Portland-based yard Zidell Marine, closed last year for similar reasons. Zidell was located in an up-and-coming mixed-use district, and its site will be redeveloped with multi-story residential/commercial buildings.