U.S. 2018 Budget: More Port Investment Needed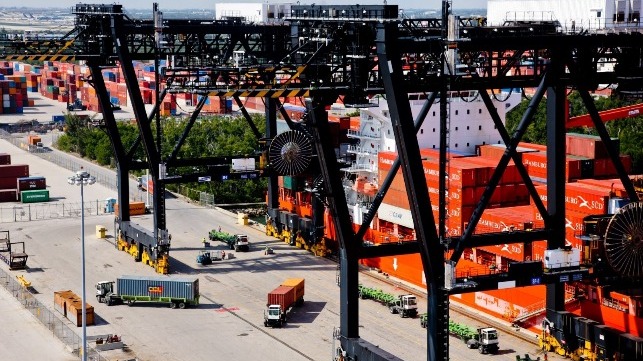 The American Association of Port Authorities (AAPA) has sent a letter to House and Senate Appropriators urging them to increase the spending plan for the U.S. Army Corps of Engineers and the Department of Transportation in the FY 2018 budget.
Recently, Congress and the President approved a two-year budget plan that included $20 billion over two years for infrastructure. That funding will be determined by the appropriators.
AAPA has identified $66 billion in port-related infrastructure federal investment needs over the next decade which will result in U.S. job creation, economic growth and tax fairness. AAPA's 10-year recommendation to build America's 21st century seaport infrastructure includes $33.8 billion for investments in waterside improvements and $32.02 billion for landside investments.
The AAPA says that channels are under-maintained due to a lack of full use of the Harbor Maintenance Tax (HMT). AAPA's 10-year recommendation of $27.6 billion is to maintain deep-draft navigation channels, and it says $6.2 billion is needed to modernize deep-draft navigation channels.
AAPA's letter advocates for $1.03 billion in additional funds for the Corps of Engineers coastal navigation program which would include full use of the prior year's HMT revenues ($1.472 billion) and $900 million which is one-tenth of the $9 billion of surplus in the HMT fund.
On the land side, AAPA called for $1.25 billion for the Department of Transportation's TIGER program, as well as additional funds for the FAST Lane state funds and INFRA grants, with an adjustment in the multi-modal caps since the 10 percent state limit puts states that have ports at a disadvantage.
The letter states ports handle 95 percent of the U.S. overseas cargo and that growing trade requires investment in the nation's infrastructure to meet the demand for safe, efficient movement of freight. These investments will help the U.S. to trade competitively on the world market. Seaports need at least $28.9 billion over the decade in port landside infrastructure federal funding, recently identified in a soon to be released report, The State of Freight III – Rail Access and Port Multimodal Funding Needs.
In conclusion, the letter states "Ports and their private sector partners are making huge investments to prepare for the trade increases in the future. They are planning to invest $155 billion between 2016 and 2020. This investment is reliant on and can be leveraged with federal investments to make our seaport infrastructure modern and strong.
"American seaport activity accounts for over a quarter of the economy and supports more than 23 million American jobs. Seaports are economic engines and vital freight gateways to the global marketplace for American farmers, manufacturers, and serve as critical infrastructure for the U.S. military. Increased federal support of seaport infrastructure must be part of the plan to spend $20 billion over the next two years on infrastructure.
"Our nation's ability to address the trade needs of both today and the future are at risk. Seaport infrastructure investments are good for ports and good for the nation."
Congress has until March 23 to address the supplemental spending for FY 2018.