U.N. Security Council Focuses its Attention on Maritime Crime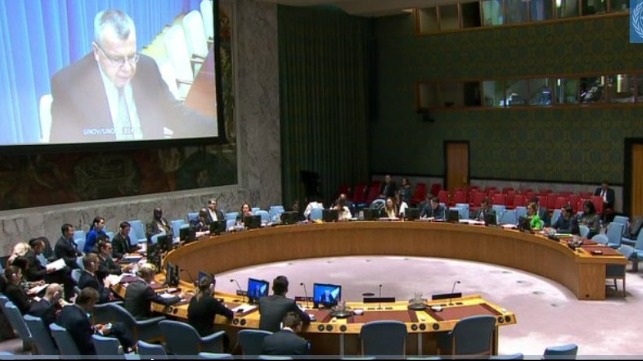 Transnational maritime crime is becoming more sophisticated as criminal groups exploit the open spaces of the high seas, warned Yury Fedotov, Executive Director of the United Nations Office on Drugs and Crime (UNODC), in a United Nations Security Council hearing on Tuesday. The discussion was the first in the council's seven decades of history to focus on this global security challenge.
"Two-thirds of the world's surface is ocean. Nearly all of that is beyond any state's territorial waters and largely not subject to a single state criminal jurisdiction," said Fedotov. "In recent years the freedom of navigation is being exploited by criminal groups. Transnational maritime crime is increasingly sophisticated, and it is expanding, both in terms of size and types of criminal activities."
Preventing and responding to maritime crime can often be difficult, Fedotov said, since it often involves vessels, cargoes, crews and financing from different regions. These crimes include:
- piracy and armed robbery at sea in the Gulf of Guinea;
- kidnap for ransom in the Sulu and Celebes Seas;
- smuggling of migrants and terrorist material as well as attacks on shipping in the Gulf of Aden;
- cocaine trafficking in the Atlantic and Eastern Pacific;
- heroin trafficking in the Indian Ocean;
- illegal fishing in the Atlantic, Indian and Pacific oceans;
- and migrant smuggling in the Mediterranean.
"These crimes pose an immediate danger to people's lives and safety, they undermine human rights, hinder sustainable development and, as this Council has recognized, they threaten international peace and security," he said.
Fedotov emphasized the importance of all countries ratifying and implementing international commitments, including the UN Convention against Transnational Organized Crime and its protocols, and providing technical assistance. He welcomed the Security Council's continued engagement to help strengthen cooperative action against transnational maritime crime.
The Convention against Transnational Organized Crime entered into force in 2004, and it has 147 signatory countries. Three subsequent protocols on human trafficking, migrant smuggling and gun-running are also in force, but have fewer signatories.
UNODC's Global Maritime Crime Programme (GMCP) conducts a wide range of anti-piracy and anti-crime assistance initiatives, from institution-building work with courts, prosecutors and prison systems to training programs for national coast guards. It has its origins in the UN-backed anti-piracy initiative in the Horn of Africa, and following the broad success of that effort, it has expanded its work worldwide.