Typhoon Relief Efforts Continue on Tinian and Saipan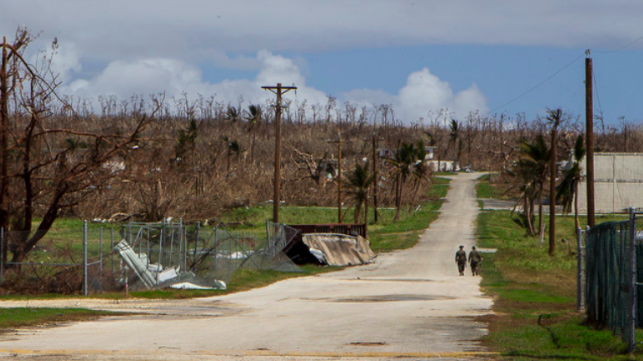 The Department of Defense has deployed about 500 personnel to the Mariana Islands to help with the disaster response effort for Super Typhoon Yutu recovery efforts, which struck Tinian and Saipan with 180-mph winds on October 24. Super Typhoon Yutu was the strongest typhoon ever to hit a U.S. territory, and it was the second-strongest system to hit U.S. soil in recorded history, according to NOAA.
Yutu intensified rapidly just prior to making landfall, growing from a 75-mph Category 1 storm to a 180-mph Category 5 in the span of just 36 hours. Its central pressure plummeted from 974 mB to less than 900 mB over the same period. FEMA official Michael Lowry described it as "one of the most intense tropical cyclones we've observed worldwide in the modern record."
According to FEMA, southern Saipan suffered extensive damage to critical infrastructure and lost power island-wide. Tinian, which has a smaller population, suffered damage to its local health center and lost all power. The Guam Power Authority arrived to begin power restoration efforts on October 28, and U.S. Marines with the 31st MEU arrived with the amphib USS Ashland on October 29.
Since the Ashland's arrival, a batallion of Navy Seabees, the 31st MEU and the 36th Combat Logistics Battalion have helped purify and distribute more than 20,000 gallons of water; clear two public schools, government buildings and the municipal power facility of downed trees and debris; and restored emergency services capacity to respond to medical emergencies.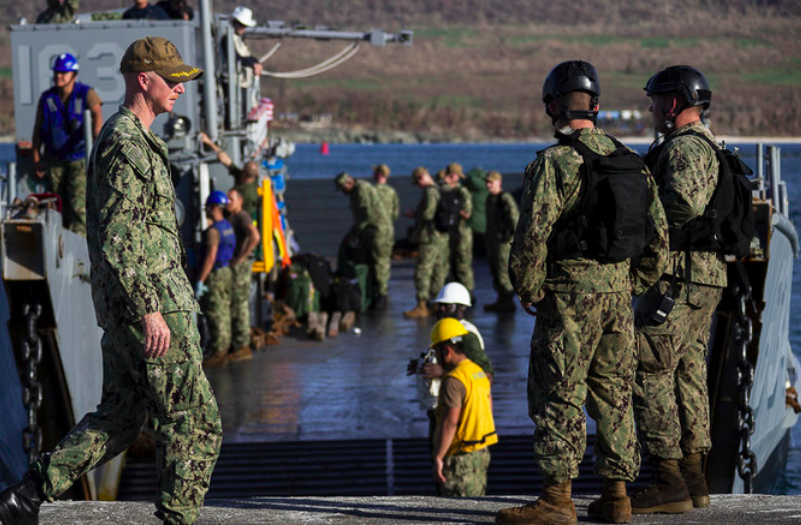 Sailors and marines with a landing craft from USS Ashland, Tinian (USMC)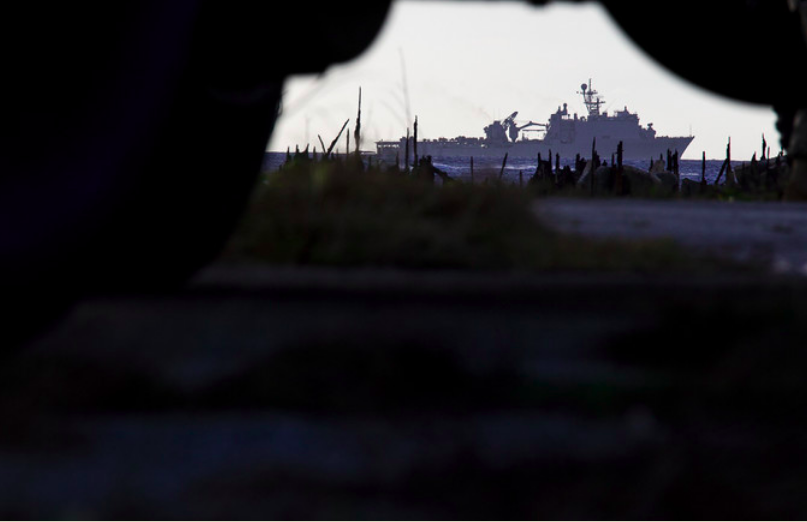 USS Ashland off the coast of Tinian, November 3 (USMC)
Equipment and supplies come ashore via landing craft from USS Ashland (9th Mission Support Command)
Aerial damage survey, Saipan, November 3 (9th Mission Support Command)
"We are working alongside the people of CNMI to help recover and ensure people get the assistance they need," said Navy Rear Adm. Shoshana Chatfield, commander of Task Force West, the unit assigned to the relief effort. "I am extremely proud of the hard work and dedication I've seen from my team, both on Saipan and Tinian, and I know they will continue to put forth their best effort until contributions from the DoD are no longer needed."
Task Force West is divided into Task Group Saipan and Task Group Tinian, and is comprised of active duty, reserve, and Guam National Guard service members from more than 20 different units and every branch of the armed forces. Service members traveled from Japan, Guam, Hawaii, and parts of the continental U.S. to assist the mission.
"This is the worst storm anyone in the CNMI has ever seen, and we must ensure we take care of each other," said Governor Ralph DLG. Torres. "We are grateful for the partnership we have with FEMA and our military partners on island to help us during this difficult time. To our federal and military partners, Si Yu'us Ma'ase for your continued support; thank you from the bottom of our hearts."