Two Wind-Power Rotor Sails Installed on LR2 Tanker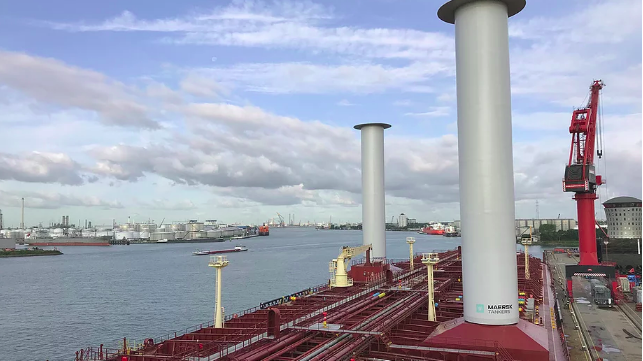 On Thursday, wind propulsion firm Norsepower announced that it has completed the installation of two of its Rotor Sails aboard the LR2 tanker Maersk Pelican. At 30 meters tall by five meters wide, they are the largest units that Norsepower has ever built.
The Rotor Sail is an updated Flettner rotor with automated controls and lightweight construction, and like the original, it takes advantage of the so-called Magnus effect to provide forward auxiliary propulsion. When wind conditions are favorable, the main engines can be throttled back, saving fuel and reducing emissions while maintaining speed and voyage time.
"This project is breaking ground in the product tanker industry. While the industry has gone through decades of technological development, the use of wind propulsion technology onboard a product tanker vessel could take us to a new playing field. This new technology has the potential to help the industry be more cost-competitive as it moves cargoes around the world for customers and to reduce the environmental impact," said Tommy Thomassen, Maersk Tankers' chief technical officer.
Norsepower says that the two units will reduce fuel consumption and associated emissions from the Pelican by about 7-10 percent. To validate the system's effectiveness in this application, Lloyd's Register's Ship Performance team will collect data during a test phase and conduct an impartial third-party assessment.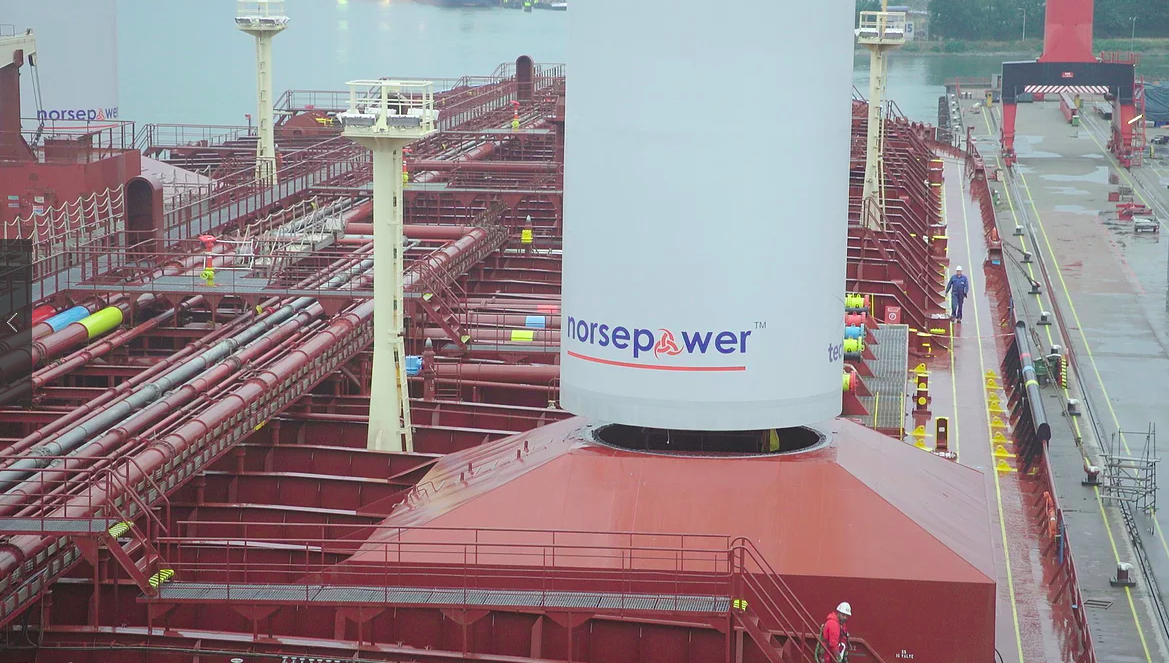 The installation in progress, Rotterdam, August 2018 (Norsepower)
The project is supported by the Energy Technologies Institute (ETI), a public-private partnership between industry and the UK government. "Auxiliary wind propulsion is one of the few fuel-saving technologies that is expected to offer double-digit percentage improvements," said ETI marine program manager Andrew Scott. "The technology is projected to be particularly suitable for tankers and dry bulk carriers, and this test will assist in determining the further potential for Rotor Sails in the product tanker industry."
The Norsepower rotor sail is an update on the original Flettner rotor design, which dates back to 1924, when engineer Anton Flettner installed two of his newly invented rotors on the converted schooner Buckau. The Buckau showed promise, with high reliability and efficiency, but the availability of cheap fuel and the onset of the Great Depression sunk the technology's chances at widespread adoption.
Nine decades later, Flettner's idea has reemerged, and it is gaining in popularity. In addition to the Maersk Pelican, Norsepower's equipment can be found on the cruise ferry Viking Grace and the freight ro-ro Estraden. The firm says that it is suitable for most vessels with open deck space, high utilization, and trading routes with favorable wind conditions.