Two Vietnamese Shipbuilding Execs Arrested on Corruption Charges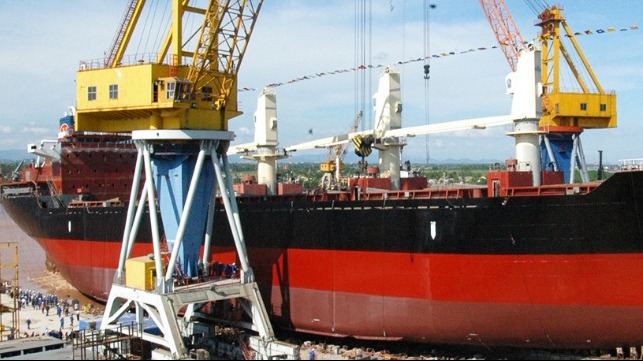 Vietnam's Investigative Police Agency has arrested two executives from troubled state shipbuilder Vinashin on charges of embezzlement.
Truong Van Tuyen, the firm's former director, and Pham Thanh Son, its current deputy director, stand accused of abusing their positions to transfer funds for their own use. According to prosecutors, Son and Tuyen worked with the firm's former accountant to transfer $4.5 million in illicit deposits to accounts at Ocean Bank, a now-defunct financial institution that has been connected to other corruption cases. Dozens of Ocean Bank's employees have already been sentenced to long prison terms, and former bank director Nguyen Xuan Son faces a death sentence for abuse of power and embezzlement.
It is not Vinashin's first embezzlement scandal. In February 2017, three former executives of the shipbuilder's shipping subsidiary, Vinashinlines, were convicted and sentenced for stealing $11.3 million from shipping contracts completed in 2006-2008. Giang Kim Dat, Vinashinlines' former business director, and Tran Van Liem, the division's former director-general, have been sentenced to death. They lost an appeal six months later. Prosecutors called for especially strict sentences because the state-owned firm became a loss-making business after the theft occurred.
Vinashin (now rebranded Shipbuilding Industry Corporation, or SBIC) has undergone a major restructuring program since its debt-burdened collapse in 2010, which occurred just as it launched a major partnership with a leading European shipbuilder. In 2013, Vietnam's ministry of finance swapped $600 million in outstanding Vinashin loans for new government-backed bonds. The loan went into default in December 2010 when Vinashin missed the first payment installment of $60 million.