Two U.S. Navy Drone Boats Make Unannounced Appearance in Japan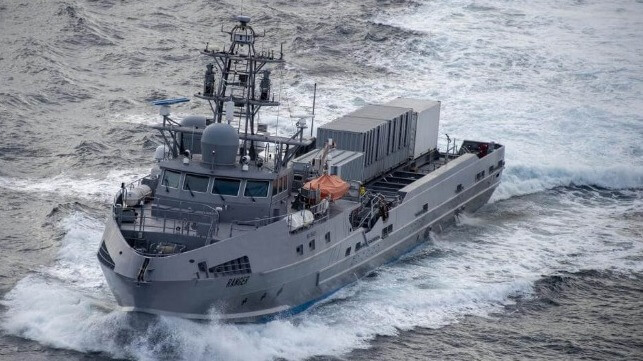 Drone boats are proving their worth on the front lines of conflict, and the U.S. Navy is moving gradually to adopt unmanned technology into its own warfighting doctrine. In a sign of the increasing visibility of these efforts, two of the service's "Ghost Fleet Overlord" drone boats were recently spotted entering the harbor at Yokosuka, Japan, thousands of miles away from their last known port of call.
The USVs Mariner and Ranger are test platforms for developing a concept of operations for unmanned vessels in the fleet. Mariner is a newly-built boat, constructed to a commercial crewboat design by Gulf Craft and prime contractor Leidos. Ranger is a conversion of a similar crewboat hull and was developed by the Pentagon's Strategic Capabilities Office (SCO) in coordination with the Navy.
In a conversation with USNI last year, the program office's leaders said that they were interested in testing out long-distance transits with these unmanned hulls, and they have been working on ways to enable unmanned refueling while under way - a difficult proposition in a seaway.
A civilian observer spotted Ranger and Mariner pulling into the Navy base in Yokosuka on Sunday. Both vessels appeared heavily laden with cargo containers on their back decks, and Mariner was fitted with what appeared to be a second mast and a second radar located at the stern. Ranger was visibly crewed at the time of arrival: a photographer captured at least three people visible on deck as it entered the harbor.
?????????
Ranger &Mariner

?????????:( ;´?`;) pic.twitter.com/PTsXqAOq14

— ???????? (@bonalyyokosuka) September 18, 2023
????????????

USV Ranger
USV Mariner pic.twitter.com/lVIsIWP0nG

— ????? (@HNlEHupY4Nr6hRM) September 18, 2023
Ranger and Mariner were last spotted off Hawaii in mid-August, under way and headed for Pearl Harbor. They are homeported in San Diego under the command of a special-purpose unmanned systems division.
Another large USV, Vanguard, is under construction at Austal USA. It will be considerably bigger than Mariner and Ranger, with more range and a larger payload capacity.