Two Former Officials Arrested Over Sewol Cover-Up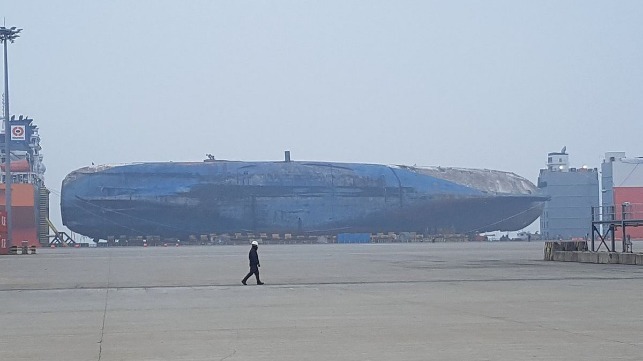 Two former officials from South Korea's maritime ministry have been arrested on charges of obstructing the investigation into the 2014 sinking of the ferry Sewol. According to prosecutors, ex-maritime minister Kim Young-suk and ex-vice minister Yoon Hag-bae ordered their subordinates to find ways to interfere with the work of an independent investigative panel.
The events surrounding the tragic sinking and the investigation that followed have been clouded in suspicion for years, and last year, families of the victims successfully petitioned the new government of President Moon Jae-in to open a second independent inquiry. In April 2017, organizers gathered a rally of 100,000 supporters in downtown Seoul to demand that the government "get to the bottom of the Sewol disaster." Most of the 300-plus victims of the sinking were high school students, giving the accident an outsized profile for a marine casualty.
The government response to the sinking was a key political factor in the impeachment of former South Korean president Park Geun-hye, who was removed from office last year and arrested on unrelated charges of abuse of authority and graft. Over the months since she was jailed, prosecutors have added new charges, including allegations that she accepted $3.5 million in cash from Korea's intelligence agency and illegally engaged in election activity.
The first independent Sewol Investigative Commission contended that Park's government was less than forthcoming with information on the sinking. "[The Park administration] refuses to release the documents related to the tragedy on the grounds that they will be designated as part of the classified presidential archives, but that is for the purpose of protecting state secrets and should be broached after the president's term is over," said commission member Jeon Jin-hwan in 2016. "Based on their logic, no information related to the [administration] can be made public, but that violates the rights of citizens to know the truth."
Families of the victims and their supporters also allege that Park's government attempted to interfere with the investigation by delaying the salvage of the Sewol, which involved the raising of a whole merchant ship from the greatest depth ever attempted. Even after the wreck was carried to shore and salvors began the process of searching for bodies, allegations of cover-ups and intentional delays have persisted.