Tuvalu Seeks Help From Sea Shepherd to Curb IUU Fishing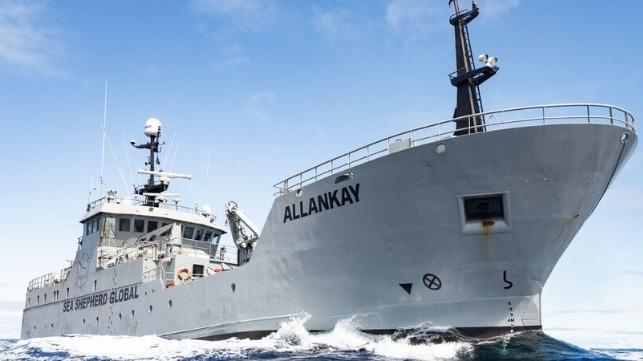 The government of Tuvalu has sought assistance from Sea Shepherd Global, the well-known conservation NGO, to combat illegal, unreported and unregulated (IUU) fishing in Tuvalu's waters.
Through a Memorandum of Understanding (MoU) signed last week by the Honorable Simon Kofe, Tuvalu's Minister of Justice, Communications and Foreign Affairs, Sea Shepherd Global committed to send its marine conservation vessel Allankay, which will support Tuvalu's law enforcement officers during sea-patrols.
The Allankay, a 54.6-meter vessel, is a recent addition to the Sea Shepherd Global fleet. Formerly, it was a Patagonian toothfish longliner and was transformed into a marine patrol vessel, relaunched in February.
According to the MoU, Allankay will accommodate a detachment from the Tuvalu Police Service with the authority to board, inspect and arrest fishing vessels engaged in criminal activities within Tuvalu's territorial waters.
Sea Shepherd Global confirmed it will provide Allankay at no cost to the government of Tuvalu.
With rising use of satellite imagery, the Pacific region has been highlighted as a major hotspot for IUU fishing. The problem is aggravated since most Pacific Island states lack enforcement capacity and resources, making them prime targets for the IUU fishing trade.
With more than 50 percent of Tuvalu's economy dependent on fisheries, IUU fishing is tantamount to an economic disaster. Despite threatening marine ecosystems and biodiversity of the Pacific, IUU fishing also undermines the livelihoods of local communities that depend on the Ocean for food and income.
The Pacific Island Forum Fisheries Agency (FFA) estimates that the annual loss due to IUU fishing in the Pacific is around $600 million.
"The engagement of Sea Shepherd Global to provide support in monitoring and surveillance of Tuvalu's Exclusive Economic Zone (EEZ) could not come at a better time, as Tuvalu's sole patrol boat, the Te Mataili II, was severely damaged by a cyclone in Vanuatu in March this year and is currently under repair in Australia," said Minister Kofe.
Kofe also expressed his gratitude to Ambassador Shivshankar Nair, Tuvalu's Envoy for the Oceans and Climate Change, for his role in initiating the collaboration with Sea Shepherd Global.
"Sea Shepherd Global is excited to bring a model that we know works to the South Pacific for the first time. We know the impact of these patrols. In the places where we work, illegal fishing has been largely eliminated," said Alex Cornelissen, CEO of Sea Shepherd Global.
Since 2016, Sea Shepherd Global has been working with government partners especially in the African continent to curb IUU fishing. These include Gabon, Tanzania, Liberia, The Gambia, Benin, Sao Tome and Principe, Sierra Leone and Namibia. Reportedly, this has led to arrest of 85 vessels for illegal fishing and other fisheries crimes.