The watchdog group Migrant Report has released videos and imagery showing Turkish coast guard forces allegedly harrassing and attacking rubber boats filled with migrants, using a combination of close maneuvering, prop wash and physically striking the rubber boats with sticks or boat hooks.
The most recent incident occurred at 0800 hours Friday, off the Greek Island of Agathonisi, the NGO said. A Turkish Coast Guard unit reportedly attempted to intercept the dinghy before it could exit Turkey's territorial waters; the patrol boat deployed its own RIB to pursue the migrants' raft, which contained an estimated 15 children and 25 adults.
The crewmembers aboard the dinghy allegedly struck the raft with a stick or boat hook. Migrant Report suggests that one woman aboard was struck in the head. The chase, which lasted about 40 minutes, continued over the line into Greek territorial seas, and only when the migrants neared Greek shores did the Turkish patrol turn back.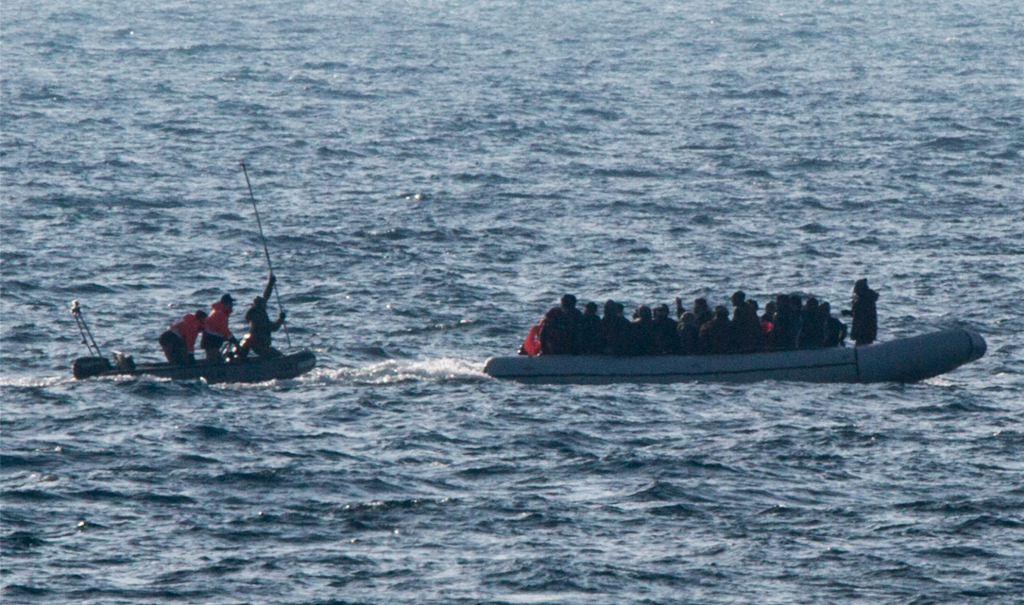 Images courtesy Migrant Report / Jason Florio
Separately, on March 12, media sources posted video of what appears to be a Turkish coast guard vessel pursuing a raft filled with migrants and attempting to strike the raft with a stick or boat hook.
Regarding the incident Saturday, the Turkish Coast Guard said that its units had attempted to disable the migrant craft's engine using sticks. It suggested that they had demonstrated restraint."In order not to risk the migrants' lives, another preventive method of colliding to the boat was not applied. Despite all warning and stopping efforts, the related migrant boat could not be stopped. Maximum attention was applied during the whole process to not to harm the migrants," the agency said, according to Daily Sabah.
In related actions, Turkish authorities detained 1,700 migrants trying to reach the Greek island of Lesbos on Friday, in a major operation involving coast guard ships and helicopters.
A total of 1,734 migrants and 16 smugglers were detained in the operation, launched at several locations near the town of Dikili on Turkey's Aegean coast, the military said in a statement. The operation involved the coast guard, navy and gendarmerie and was backed by air support, it said.
On the same day, the EU concluded negotiations with Turkey over a program to return refugees reaching Greece back to Turkish shores.
EU member states still have to vote on a final approval for the "one in, one out" deal, which would deport all migrants who use unregulated means to depart Turkey and arrive in Greece; Turkey would create a regulated process to send an equal number to the EU.
In return, Turkey would get over $3 billion in aid to help with migrant accommodation, plus accelerated talks on EU accession and unrestricted travel for Turkish citizens within Europe. The deportations would begin April 4 for migrants arriving after March 20.
While many in Brussels hailed the agreement as a game-changer, Amnesty International decried it as a "historic blow to human rights", saying Europe was turning its back on refugees.
"Guarantees to scrupulously respect international law are incompatible with the touted return to Turkey of all irregular migrants," the rights advocacy group said, criticizing Ankara's track-record on human rights.
"Turkey is not a safe country for refugees and migrants, and any return process predicated on it being so will be flawed, illegal and immoral."
Over one million people have arrived in the EU since January 2015, due largely to the conflict in Syria, and an estimated 2.7 million more are already in Turkey alone.
3,700 migrants died at sea in the Mediterranean last year, about 0.4 percent of the total attempting the two major routes (Turkey to Greece and North Africa to Italy). For comparison, this is about half again more than the annual fatality rate for the Bering Sea crab fishery, which stands at about 0.26 percent.