Turkish Cargo Ship Rescues MSC Officer 20 Hours After Going Overboard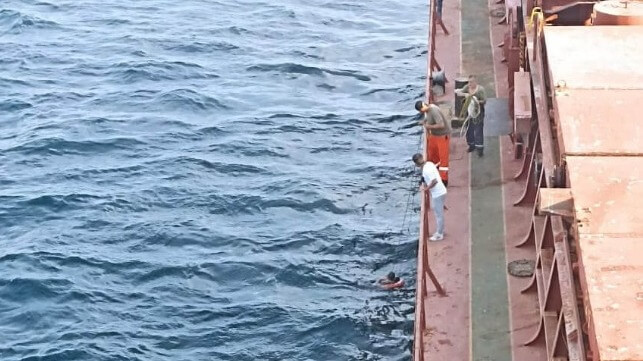 Turkey's General Directorate of Maritime Affairs is highlighting that a Turkish cargo ship completed a miraculous rescue of a seafarer who had been adrift in the Black Sea for up to 20 hours. The video of the recovery of the officer who fell from an MSC containership is being broadly circulated in the Turkish media.
The MSC containership MSC Nadriely (33,977 dwt) registered in Liberia departed Poti Port, Georgia on August 28 and was sailing along the northern coast of Turkey bound for Istanbul. The ship which is 682 feet long carries 2,468 TEU.
According to the media reports the "second captain" of the vessel, a Ukrainian, was discovered missing on August 30. After a search of the vessel could not locate the officer, being referred to in other articles as the first mate, the containership turned around to retrace its route. They also notified the Turkish officials. Rescue boats and Coast Guard aircraft were dispatched and an alert was issued for other ships.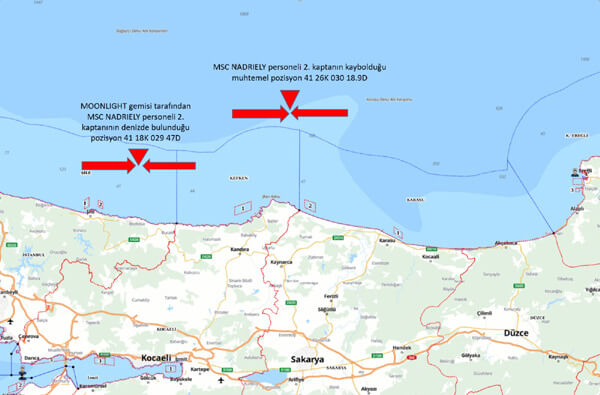 A Turkish-owned cargo ship, the Moonlight (6,648 dwt), registered in Panama, had departed Kalamaki, Greece, and was heading to Poti Port, due to arrive on September 1. On August 31, the cargo ship came upon the officer in the water and was able to rescue him approximately 20 hours after he was reported missing. A map issued by the Turkish authorities appears to show a distance between the two points of as much as 50 miles.
Pictures of the rescue show the man to be conscious on the deck of the cargo ship. He was transferred to a Turkish hospital, where he is reported to be recovering.