Tug Strike Could Affect Royal Navy's Operations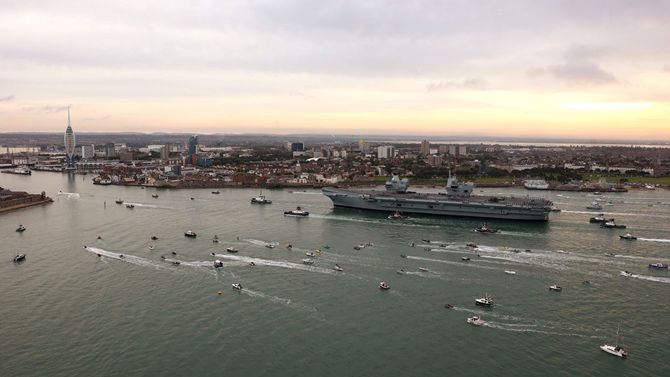 The brand new Royal Navy aircraft carrier HMS Queen Elizabeth may face temporary difficulties arriving and departing from her homeport of Portsmouth, on England's south coast. A possible strike action by the private tugboat crews that serve the port could interrupt the flow of marine traffic, including the movements of naval vessels like the "QE."
The union Unite, which represents the marine employees of tug operator Serco Marine Services, said that Portsmouth, Greenock, Faslane, Kyle and Devonport could all be affected. The Royal Navy's HM Naval Base Clyde, located at Faslane, is the service's main presence in Scotland and the home of the UK's nuclear submarine fleet.
In a statement Wednesday, Unite said that the movement of Royal Navy vessels in and out of these ports could be severely disrupted. The tug crew's employer, Serco, proposed a pay raise of 1.8 percent for 2016-17 and 2.2 percent for 2017-18, which the union's membership rejected by a wide margin. Unite called for new negotiations for a larger raise.
"If our members vote for strike action it will create choppy waters industrially and be highly disruptive as naval vessels need the tugs to help navigate them to open water," said the union's national officer for the docks, Bobby Morton. "Serco Marine Services has imposed a derisory pay award when inflation is taking off – the retail price index (RPI) is standing at 3.9 per cent currently. The [math] doesn't add up for our members who are struggling with rising household bills." Union members will receive ballots this Friday and will finish voting on the question of a labor action by October 20.
If the action is approved, the service interruption could make for a rocky start for the Queen Elizabeth's tenure in Portsmouth. The UK government spent 12 years on planning, dredging and mine-clearing to deepen the harbor in order to base the "QE" at Portsmouth, a project that was finally completed this summer. She arrived at the port for the first time in mid-August.
Serco has been providing the Royal Navy with a variety of marine services since 1996, when it took over tug, fueling and ammuntion supply functions from the Royal Maritime Auxiliary Service (RMAS). It assumed all of RMAS' remaining responsibilities in 2007, and the Auxiliary Service was disbanded. The firm now operates 120 support vessels for the Royal Navy and the Royal Australian Navy, along with four vessels for the International Nuclear Service, a government-affiliated contractor specializing in the transport of spent nuclear fuel.