Trump Casts Doubt on Trade-War Ceasefire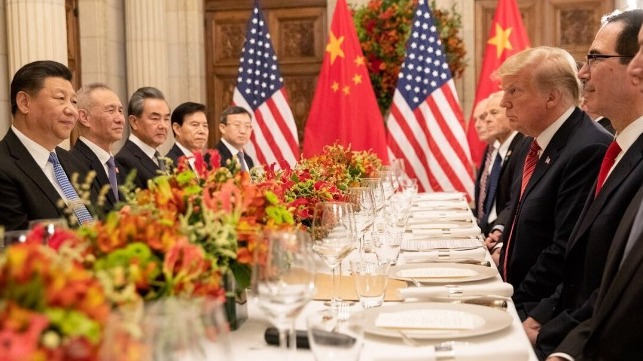 Just days after President Donald Trump announced a temporary ceasefire in his administration's trade war with China, he suggested that he is a "Tariff Man" and warned the U.S would impose new trade measures in the event that the two sides cannot reach an agreement.
"China is supposed to start buying agricultural product [sic] and more immediately. President Xi and I want this deal to happen, and it probably will. But if not remember, I am a Tariff Man," Trump wrote in a series of tweets Tuesday morning. "We are either going to have a real deal with China, or no deal at all - at which point we will be charging major tariffs against Chinese product being shipped into the United States."
Over the course of the day, the Dow, S&P and NASDAQ slid more than three percent, driven down in part by concerns over trade.
At the G20 summit in Argentina last weekend, Trump and Chinese President Xi Jinping met to discuss ongoing trade tensions, and they negotiated a 90-day deferment of the third and largest round of American tariffs. However, the two sides issued differing statements about the details of the agreement, and analysts expressed skepticism that it would bear fruit.
"The weekend agreement . . . begins a 90-day window for the United States and China to reach a much broader agreement on trade- and investment-related issues that had sparked the punitive tariffs and counter-tariffs during 2018," said Nelson Dong, a senior partner at the international law firm Dorsey & Whitney. "These new negotiations will presumably focus on China's perceived injurious policies, such as forced technology transfers from the United States to China, lax intellectual property protection, non-tariff barriers, cyber intrusions and cyber theft . . . [and] China's willingness to agree to any meaningful concessions concerning these broad economic issues remains far from certain."