Florida Removed from U.S. Offshore Drilling Plan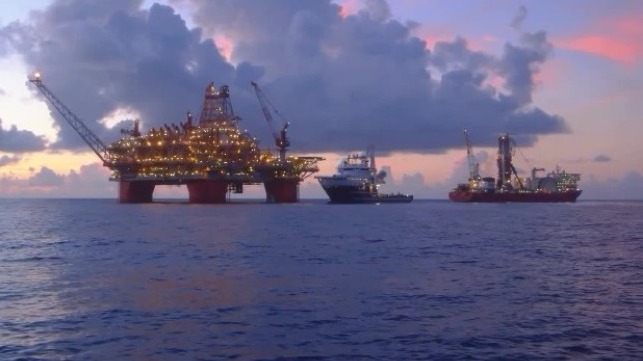 Just days after the Trump administration announced a plan to open up to 90 percent of America's offshore waters to oil exploration, the Interior Department announced that it will withdraw areas off the coast of Florida from consideration.
The abrupt reversal comes after strong objections from Florida Governor Rick Scott. When the administration's plan was announced on January 4, Gov. Scott immediately called for a meeting with federal officials to discuss Florida's exclusion. "Based on media reports it is likely that the Department of the Interior will consider Florida as a potential state for offshore oil drilling - which is something I oppose in Florida," he said in a statement. "I have already asked to immediately meet with [Interior Secretary Ryan Zinke] to discuss the concerns I have with this plan and the crucial need to remove Florida from consideration."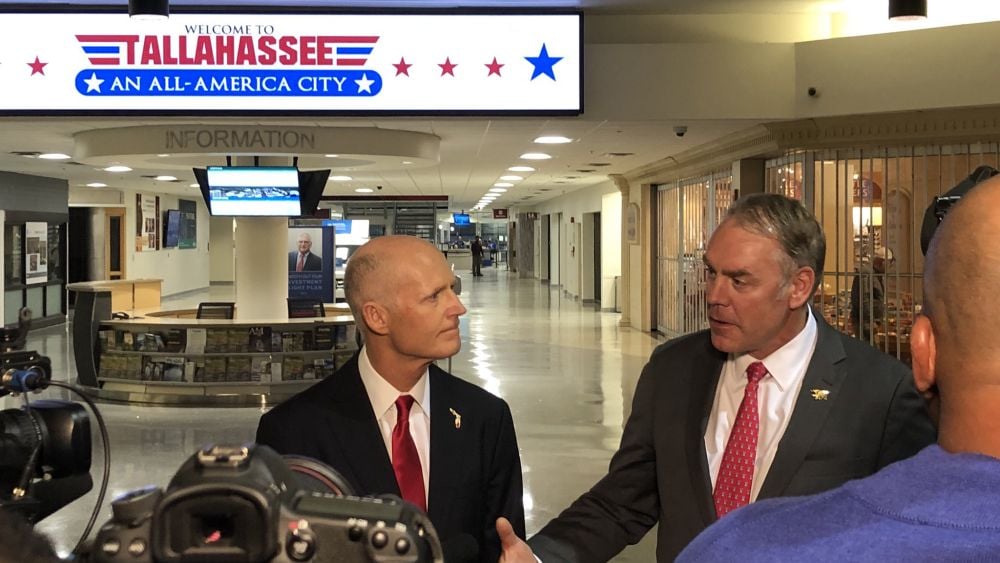 Gov. Scott, center, with Secretary Zinke on Tuesday (Interior Dept.)
Secretary Zinke met with Scott at an airport in Tallahassee on Tuesday, and in a press conference afterwards he announced that Florida would no longer be included in the draft lease plan. "I support the governor's position that Florida is unique and its coasts are heavily reliant on tourism as an economic driver," Zinke said in a statement. "I am removing Florida from consideration for any new oil and gas platforms."
Zinke did not discuss the status of the waters off the states of Oregon, California, Washington, New York, New Jersey, Delaware, Maryland, Virginia, North Carolina or South Carolina, whose governors have registered their opposition to the plan. On Wednesday, South Carolina Governor Henry McMaster (R) issued an appeal that mirrored the economic rationale for exempting Florida. "We cannot afford to take a chance with the beauty, the majesty and the economic value and vitality of our wonderful coastline in South Carolina," McMaster said. "It is just too important. This is a matter of serious importance to us in South Carolina." Virginia Governor Ralph Northam said simply that "we'd like a word in Virginia," and New York Governor Andrew Cuomo asked "where do we sign up for a waiver?"
"Such a quick reversal begs the question: Will the Trump administration give equal consideration to all the other coastal Governors from both parties who overwhelmingly reject this radical offshore drilling plan?" said Oceana campaign director Diane Hoskins in a statement.
Political analysts raised the possibility that the exemption for Florida could be intended to provide Gov. Scott with a public relations win for an upcoming election campaign. Florida Senator Bill Nelson (D) is up for re-election this year, and Gov. Scott will be leaving office due to term limits; he is widely expected to challenge Senator Nelson for his seat. President Trump has publicly encouraged Scott - who has supported the president since the 2016 Republican primaries - to enter the race.
"I have spent my entire life fighting to keep oil rigs away from our coasts," said Senator Nelson in a statement. "This is a political stunt orchestrated by the Trump administration to help Rick Scott who has wanted to drill off Florida's coast his entire career."
Rep. Mark Sanford (R-SC) also questioned whether the administration's motivations could be colored by Trump's real estate interests. "I would also say this, it smacks of what we never want to see in politics which is: Is it self-serving?" Sanford said. "I mean you can't say, 'I don't want to see an oil rig from [Trump's club] Mar-A-Lago' as you look out from the waters of Palm Beach, but it's okay to look at an oil rig out from Hilton Head or Charleston, South Carolina."
Opponents of the lease plan suggested that regardless of motivation, unequal treatment for Florida could lead to a successful lawsuit. "Taking Florida off the table for offshore drilling but not California violates the legal standard of arbitrary and capricious agency action. California and other coastal states also rely on our beautiful coasts for tourism and our economy. I believe courts will strike this down," wrote Congressman Ted Lieu (D-CA) in a statement.
The U.S. oil industry association, the American Petroleum Institute, called for the administration to follow the regular rule-making process for setting the next five-year OCS lease plan. "This announcement is premature. Americans support increased domestic energy production, and the administration and policymakers should follow the established process before making any decisions or conclusions that would undermine our nation's energy security," wrote API President Jack Gerard in a statement.
The National Ocean Industries Association (NOIA) described Zinke's reversal as "disappointing and premature." "The Outer Continental Shelf Lands Act (OCSLA) clearly outlines a deliberative, inclusive and lengthy review process," said NOIA President Randall Luthi. "Removing areas offshore Florida this early in the planning process prematurely curtails dialogue and thorough study of the possibilities for future development."