Storm Capsizes Freighter, Drives Four More Aground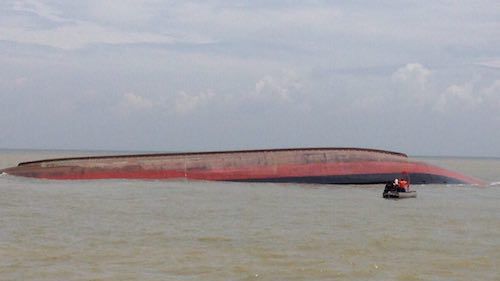 Last weekend, four ships went aground and one capsized as tropical storm Talas swept ashore at Cua Lo, Vietnam.
The small coal carrier VTB 26 was anchored off of Hon Ngu, Cua Lo on Sunday evening, loaded with 5,000 tonnes of coal. She was scheduled to enter the port, but could not berth because the port authority had a storm warning in effect and would not allow merchant ships to enter. At about 0200 hours on July 17, force of the wind and waves caused her to capsize, with 12 crew and one coal company employee on board.
Local media report that she sent a distress signal before she went over, but that it was not possible to mount a rescue mission immediately due the severe weather. Seven crewmembers were eventually rescued and two were found dead at the scene. Two more bodies were recovered over the course of the week, including one found within the wreck by salvage divers.
Crewmembers Nguyen Van Chieu (an officer) and Nguyen Hai Quyet (an OS) remained missing as of Friday. Over 15 vessels are participating in an ongoing search. Vietnam's deputy prime minister, Trinh Dinh Dung, has called on the nation's maritime authorities to make all efforts to locate the missing crewmembers and to salvage the capsized vessel.
In addition to the sinking of the VTB 26, four vessels were driven onto the shore. The Thai Ha 26 grounded just 300 feet off a popular beach spot for tourists, and photos in local media show her surrounded by a containment boom and a crowd of swimmers. Other ships aground include the Truong Thanh 88, high and dry near Cua Lo port; the Minh Khanh 09, pushed up against the bank of the Lam River; and the Viet Dung 36, a salt carrier, also pushed up on the banks of the Lam. Beachside attractions like amusement park rides were also severely damaged by wind and flooding.