Tradepoint Atlantic to Develop Trans-Load Facility at Port Tampa Bay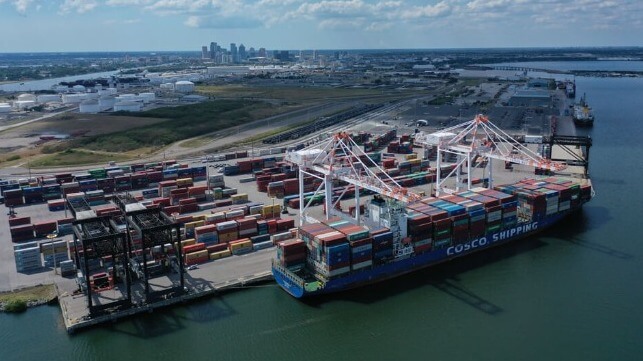 The Port Tampa Bay's Board of Commissioners approved a lease agreement to build a new trans-load warehouse distribution facility adjacent to the port as they continue efforts to build out the operations on Florida's west coast. Tampa highlights that its port is Florida's largest and most diversified port, handling over 34 million tons of cargo per year, and strategically located close to major highways and commercial customers.
The port is entering into an agreement with Tradepoint Atlantic for the development of a 3,300-acre multimodal logistics hub and industrial center. Port Tampa Bay will lease Tradepoint Tampa 35 acres of land located on Hooker's Point adjacent to the port's container terminal. Under the terms of a 40-year lease agreement, Tradepoint Tampa will design, construct, and operate an approximately 500,000 square foot facility for the trans-loading of cargo between ocean containers, trucks, and rail cars.
"Our market is booming with Florida now the fastest growing state in the U.S., and the Tampa Bay/I-4 Corridor region the fastest growing area of the state," said Paul Anderson, Port Tampa Bay President and CEO. "This new facility will provide greater efficiencies and capacity for our beneficial cargo owner customers."
Tradepoint Tampa is the latest phase of expansion for Tradepoint Atlantic and owner Redwood Holdings, the companies responsible for the development of one of the largest global logistics hubs in the country at Sparrows Point in Baltimore County, Maryland. The 3,300-acre multimodal logistics and industrial center in Baltimore is the redevelopment of the former site that once housed Bethlehem Steel's shipyard which is now being developed into a logistics and port facility. Last October, MSC's Terminal Investment Limited partnered with Tradepoint Atlantic to build a new container terminal at the site which will increase by more than 50 percent the space of container operations within the port of Baltimore.
Tampa is a diverse commercial port that includes containers, refrigerated cargo, bulk and break-bulk commodities. There are also shipbuilding and repair facilities and it is Florida's West Coast cruise port. The port is working to expand its container services highlighting the addition of new Central America and Mexico services in addition to weekly direct sailings from Asia. The container terminal is also being expanded with additional paved storage, cranes, and a new gate complex, as well as the port's on-dock cold storage facility.