Trade War Looms as China Promises New Tariffs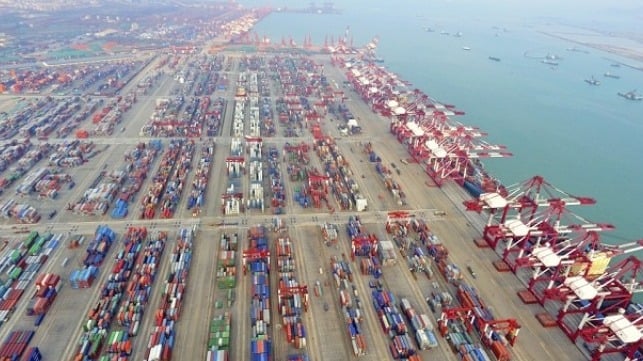 On Saturday, Beijing announced that it will match President Donald Trump's plan to impose 25 percent tariffs on $50 billion worth of Chinese goods, raising the possibility of a damaging trade war. China's countervailing tariffs will impose the same penalty on more than 650 American products, including agricultural commodities and American-made cars.
President Trump announced the tariffs as a means of penalizing China for a long-running pattern of intellectual property and technology theft, which have affected both American companies and the U.S. military for many years. Trump said that the trade measures would help prevent "further unfair transfers of American technology and intellectual property to China, which will protect American jobs." The administration's target list includes 1,100 high-tech Chinese products in aerospace, robotics, machinery and automobiles, but it does not include consumer electronics.
Chinese state newspaper Xinhua mocked the Trump administration's trade measures in an editorial published Saturday. "The wise man builds bridges, the fool builds walls," the official paper said.
The first countervailing round of Chinese tariffs will take effect on July 6, and will affect exports of American soybeans, dairy, seafood, alfalfa, cars, whiskey and a variety of other products. A second round is aimed at coal and crude oil - two important export commodities that have seen increasing sales to the Chinese market over the past year. China is the world's largest importer of oil, and it is one of the largest overseas buyers of American crude. Both lists are focused on exports from Republican-leaning regions in order to sway voters in President Trump's core constituency.
Market analysts suggested that the tariffs are not just a negotiating tactic and are likely to enter into effect. "There is very little chance that this three-week delay to July 6 will allow for a last-ditch effort to avert tariffs," said Michael Hirson, Asia director at Eurasia Group in New York, speaking to Bloomberg. "A first round of tariffs on $50 billion in goods is locked in and the risk of escalation to a second round is considerable." Trump has previously threatened to impose tariffs on an additional $100 billion in Chinese goods.
The National Retail Federation (NRF), which represents thousands of American importers, warned that tariffs on foreign products would ultimately raise prices for American consumers. "Unfortunately, these tariffs and the retaliation China has promised put . . . economic progress at risk. Once again, we urge the administration to change course and develop a clear and comprehensive strategy to hold China accountable," said NRF president and CEO Matthew Shay in a statement on Friday.