Towboat Sinks on Upper Mississippi
[Brief] On Sunday, the towing vessel Eric Haney sank on the Upper Mississippi at mile 9.7, settling to the bottom near the riverbank with about 80,000 gallons of diesel and 1,600 gallons of lube oil on board. Her nine crew safely evacuated the vessel and there were no injuries.
A Coast Guard response team out of Paducah, Kentucky arrived to assess the scene, and an oil response contractor deployed a containment boom. The Coast Guard says that an unknown quantity of diesel was discharged from the vessel, but divers have plugged up the source of the leak. No further signs of pollution have been observed.
The unified response command for the incident consists of the Coast Guard, the Missouri Department of Natural Resources and Tennessee Valley Towing.
USCG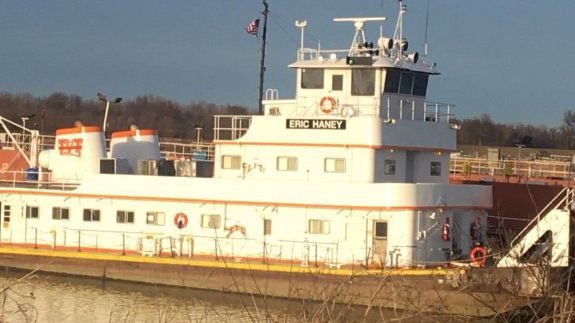 The Haney in an undated file photo (Michael Davis / LinkedIn)