The U.S. Department of State has released its 2017 Trafficking in Persons Report which highlights horrific crimes and the people working to end them.
"Human trafficking is one of the most tragic human rights issues of our time," said Rex Tillerson, Secretary of State. "It splinters families, distorts global markets, undermines the rule of law and spurs other transnational criminal activity. It threatens public safety and national security.
"But worst of all, the crime robs human beings of their freedom and their dignity. That's why we must pursue an end to the scourge of human trafficking."
The focus of this year's report is governments' responsibilities under the Palermo Protocol to criminalize human trafficking in all its forms and to prosecute offenders. Tillerson urged the 17 countries that are not a party to the international Protocol to Prevent, Suppress, and Punish Trafficking in Persons to reconsider their position and to join the other countries who have made that commitment.
Success Stories
Last year, governments reported more than 9,000 convictions of human-trafficking crimes worldwide, up from past years. Tillerson mentioned a few highlights when releasing the report:
Last July, the president of Afghanistan ordered an investigation into institutionalized sexual abuse of children by police officers, including punishment for perpetrators. In January, a new law was enacted criminalizing bacha baazi, a practice that exploits boys for social and sexual entertainment. The government continues to investigate, prosecute and convict traffickers – including complicit government officials.
In the Ukraine – a country that has been on the Watch List for years – the office of the prosecutor general issued directives to improve investigations of trafficking and increased efforts to root out complicity, including convictions of police officers. A teacher at a government-run school, a government-run boarding school for orphans, has been arrested for trying to sell a child. And officials are now on notice that complicity in trafficking will be met with strict punishment.
In the Philippines, increased efforts to combat trafficking have led to the investigation of more than 500 trafficking cases and the arrest of 272 suspects – an 80 percent increase from 2015.
North Korea and China
Tillerson was particularly critical of North Korea saying the nation depends on forced labor to generate illicit sources of revenue in industries including construction, mining, and food processing. "An estimated fifty to eighty thousand North Korean citizens are working overseas as forced laborers, primarily in Russia and China, many of them working 20 hours a day. Their pay does not come to them directly. It goes to the Government of Korea, which confiscates most of that, obviously," said Tillerson.
"The North Korean regime receives hundreds of millions of dollars per year from the fruits of forced labor. Responsible nations simply cannot allow this to go on, and we continue to call on any nation that is hosting workers from North Korea in a forced labor arrangement to send those people home. Responsible nations also must take further action. China was downgraded to Tier Three status in this year's report in part because it has not taken serious steps to end its own complicity in trafficking – including forced laborers from North Korea that are located in China."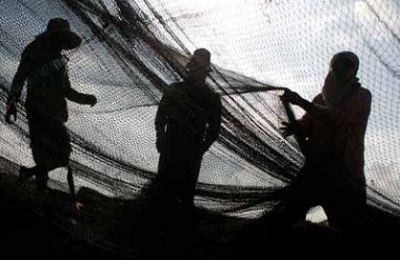 Maritime Crime
The report includes a large number of trafficking crimes in the fishing industry, naming countries such as Belize, Burma, Cabo Verde, Cambodia, Cameroon, Comeros, Fiji, Ghana, Guinea, Honduras, Indonesia, Israel, Kenya, South Korea, Malawi, Marshall Islands, Micronesia, Papua New Guinea, the Philippines, Senegal, Sierra Leone, Singapore, Solomon Islands, South Africa, Taiwan, Thailand, Uganda and the United Kingdom.
The report also includes some case studies from maritime industries:
Vihaan
Vihaan, a maritime machinist, accepted a job in the oil industry on a boat off the coast of the United Kingdom, thinking the sacrifice of leaving his family would be worth the money he could send home to support them. Once he arrived, the job was not as promised.
Vihaan was not paid and had to work long hours under difficult conditions. When the Indian owner of the vessel abandoned the ship due to unpaid debts, he left the crew stranded with their wages unpaid. Vihaan and his crewmates decided they would not desert the ship until they had been paid, and waited seven months before the Indian bank that owned the ship agreed to settle the unpaid wages.
Allison

Allison Lee is a co-founder and the Secretary General of the Yilan Migrant Fishermen Union, Taiwan's first labor union composed of and led by foreign workers, and is a leading voice in demanding stronger protections for fishing crew members and accountability for human traffickers. Lee spearheaded the establishment of the union after working for 16 years for Taiwanese NGOs focused on labor rights issues and handling labor disputes for four years at the municipal level as an employee of Taipei's Labor Affairs Bureau.
Since founding the Yilan Migrant Fishermen Union in 2013, Lee has advocated for the rights of foreign fishermen working on Taiwan-flagged vessels and documented hundreds of accounts of exploitation, abuse, and underpayment. By serving as a voice for these often unseen and unheard foreign fishing crew members, Lee has raised international and domestic awareness of exploitative working conditions, including instances of forced labor. In one case, she successfully pushed to reopen an investigation into the death of an Indonesian fisherman on a Taiwan-flagged vessel.
The report is available here.