Taiko Crew Receive Historic Award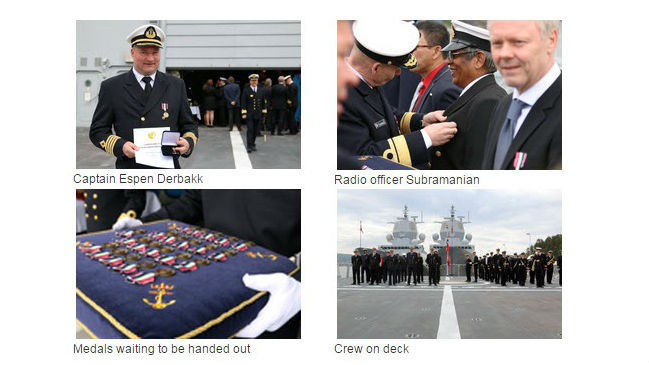 A historical event took place in Bergen, Norway, on Friday when crew from the ro-ro Taiko received an operational medal for assisting the Norwegian Armed Forces and the Norwegian government in completing the U.N. mission to remove chemical weapons from Syria.
In December 2013, Taiko was hired by the Norwegian Government to transport Syrian chemical weapons abroad for destruction. Also involved in the mission were the Danish cargo ship Ark Futura, the Norwegian Fridtjof Nansen-class frigate HNoMS Helge Ingstad and the Danish Absalon-class support ship HDMS Esbern Snare as well as Chinese, Russian and British warships. Taiko loaded chemicals at the Syrian port of Latakia, for transport to Finland and the U.S. for destruction.
"This is a historic day," comments a proud Jan Eyvin Wang, president and CEO of Wilh. Wilhelmsen ASA, the owner of Taiko. "No civilian seafarer or commercial vessel have been awarded a medal from the Norwegian Armed Forces since the Second World War."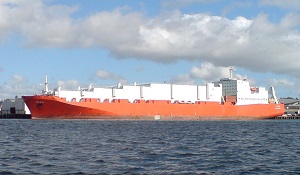 During the mission, a total of 43 civilian seafarers from Wilhelmsen served on board Taiko together with representatives from the Norwegian Armed Forces.
"We see this as a recognition of the crew's competencies to solve the mission," says Wang. It is the first time a commercial vessel and crew has been under a military command for such a long time.
"The mission was important for Norway and the U.N. Given the nature of the operation, it was complicated and we needed close coordination between Armed Forces, specialists in handling chemical weapons and the competence of the crew on board Taiko regarding loading and discharging cargo," says John Gunnar Refsnes, military captain on board Taiko and military commander for Taiko during the operation. "Close co-operation, teamwork and top competence were essential to succeed."
"Collaborating with the Navy has been a true pleasure," says Espen Derbakk, master on Taiko. "We have learned a lot from each other and together we were able to pull off a rather complicated mission. Although the cargo was somewhat special for us, we could utilize our combination of high quality seamanship and efficient cargo handling."