SS United States Conservancy Receives $100,000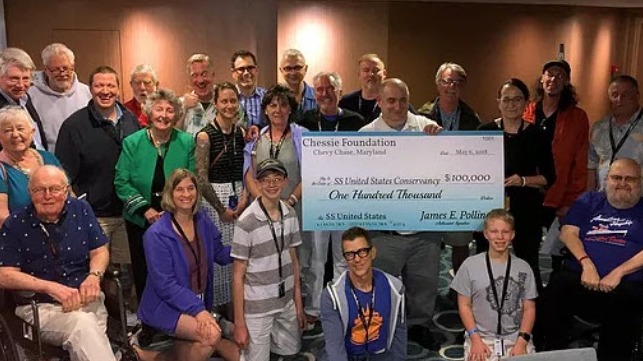 The SS United States Conservancy has received $100,000 towards its plan to revitalize the historic ship as a stationary mixed-use destination and museum.
Entirely Made in America, and with products and components from every state in the nation, the SS United States was a global ambassador and the pinnacle of mid-century maritime design. She still holds the record for fastest round trip transatlantic crossing (also known as the Blue Riband), set on her maiden voyage in 1952. Her eastbound and westbound averages were in the range of 35 knots thanks to four steam turbines totaling to 240,000 shp. She was retired from service in 1969 as airlines replaced transatlantic liners. Previous plans for her revival have all been canceled or deferred, and she has rested at dock in Philadelphia for nearly 50 years.
Cruise industry executive and philanthropist Jim Pollin, owner of the Pollin Group and winner of the SS United States Conservancy's National Flagship Champion Award, presented a check to Conservancy executive director Susan Gibbs on May 6 after fundraising on the SS United States Legacy Cruise on board the Celebrity Summit. The cruise ship is currently en route to Bermuda as part of a week-long cruise featuring seminars and special events celebrating the SS United States.
The program for the cruise, organized by the Pollin Group, included lectures by author-illustrator David Macaulay, whose forthcoming book focuses on the SS United States, as well as presentations by representatives from Gibbs and Cox, the original designers of the ship, and by Emmy-award winning filmmaker Mark B. Perry, producer of the American Public Television documentary, SS United States: Lady in Waiting.
"The Pollin Group wanted to help bring people together who are committed to keeping America's Flagship afloat," said Pollin, who last summer made a $150,000 donation to the Conservancy's We Are the United States Campaign. "We decided to organize the first annual SS United States Legacy Cruise and donate all of the cruise commissions back to the Conservancy. The interest in this journey, which retraces the SS United States' historic route to Bermuda, has been overwhelming. We've shattered our fundraising goal and have raised $100,000 from commissions and donations," said Pollin.