Spill From Sunken Tanker Spreads Through Central Philippine Islands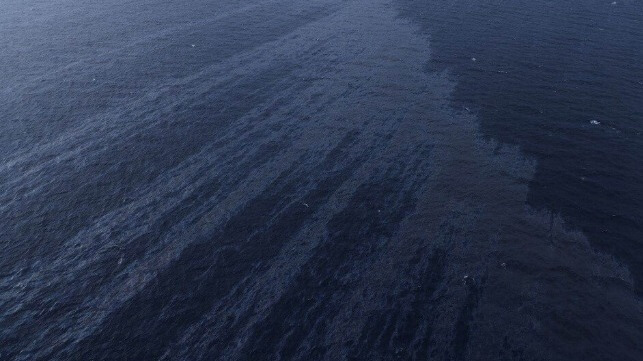 According to local officials, the wreck of the tanker Princess Empress has been located, aiding the effort to contain her cargo of fuel oil and potentially stop the leakage.
The product tanker Princess Empress sank off Balingawan Point on Feb. 28 after losing power in rough seas. The 20 members of her crew were all safely rescued by a good samaritan vessel, and no injuries were reported. However, the vessel was carrying a cargo of about 210,000 gallons of fuel oil, and she began spilling petroleum into the water. By Wednesday, the spill had reached the shoreline near the towns of Pola, Pinamalayan, Barangay Aplaya and Bongabong on Mindoro's eastern coast.
The Philippine Department of the Environment and Natural Resources (DENR) reported Monday that it has found the wreck. The survey ship BRP Hydrographer Ventura found the remains of the tanker in about 1200 feet of water off the coast of Mindoro, northeast of Pola. According to the governor of Oriental Mindoro, Bonz Dolor, the tanker's final resting place is located about 7.5 nautical miles off Balingawan Point. The reported wreck location will help guide ROV inspection efforts, and DENR said that it is working to gain access to an ROV.
The shipowner, identified as RDC Reield Marine Services, has hired two response companies to attempt to control the spill. Harbor Star Shipping Services will provide oil containment and ROV services, while Malayan Towing and Salvage will provide additional support. The ROV equipment should be on scene and operational by the end of the week, according to Rappler.
In the meantime, Philippine officials are concerned at the growing extent of the spill, which has spread into a slick of about 500 yards wide by 15 nm long. Over the weekend, drifting oil pollution reached the Caluya Islands, some 75 nm to the south of the wreck site. The area is just 20 nm west of Boracay, a popular island resort hub known for its white sand beaches.
"If the oil reaches Boracay, the consequences for the island are unpredictable," a regional tourism official told EFE.
The long-term rehabilitation of the affected shoreline on Mindoro will take longer than the immediate spill response, and the damage has not yet been calculated. Dozens of designated marine sanctuaries are at risk of pollution, including mangroves, reefs and seagrass beds, and at least seven named protected areas have already been affected by oil.