Spanish Police Arrest Stowaway With 200 Kilos of Cocaine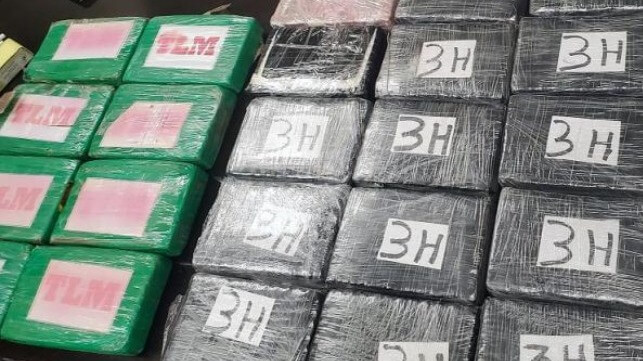 Cocaine smuggling is a commonplace risk for vessels transiting from Colombia to Europe, but a recent bust at the port of Gijon, Spain had an unusual twist. The cocaine was in the possession of a stowaway, a 58-year-old Colombian national who had boarded the ship during a previous port call.
On Monday afternoon, the freighter Iraklis arrived in Gijon on a voyage from Barranquilla, Colombia, carrying a load of coke for a Spanish steel mill. Before arrival, the captain contacted Spanish authorities to report that there was a stowaway aboard. Agents with the Civil Guard, the National Police and the national tax agency (Tributaria) were on hand at the pier to arrest the individual and search the ship.
The stowaway had been hiding in a "covered structure" on board the ship, according to La Nueva Espana. A search with dogs turned up 200 kilos of cocaine on board, worth at least $6 million on the European market.
Cocaine commands a high price in Europe, and criminal organizations based in South America and southern Europe have come up with countless methods for importing it into the continent. Customs authorities discover more than 100 tonnes of cocaine per year in ordinary containers at the ports of Rotterdam and Antwerp, the main hubs for the drug's arrival in the EU. Other known methods include narco-submarine transport; transshipment at sea off the Canary Islands; and the ploy of affixing packages on the hull's exterior or inside of an intake grate.
The haul found aboard the Iraklis is the second recent report of a drug-smuggling attempt accompanied by stowaways, though in a much different location. Last Tuesday, U.S. Customs and Border Protection and the U.S. Coast Guard detained 18 migrants who had stowed away aboard a container barge in an attempt to enter the port of San Juan, Puerto Rico. 16 were rescued from the water, but the remaining two were found aboard the barge, and they were in possession of 11 kilos of cocaine and a handgun.