Spanish Patrol Boat Harasses U.S. Navy Transport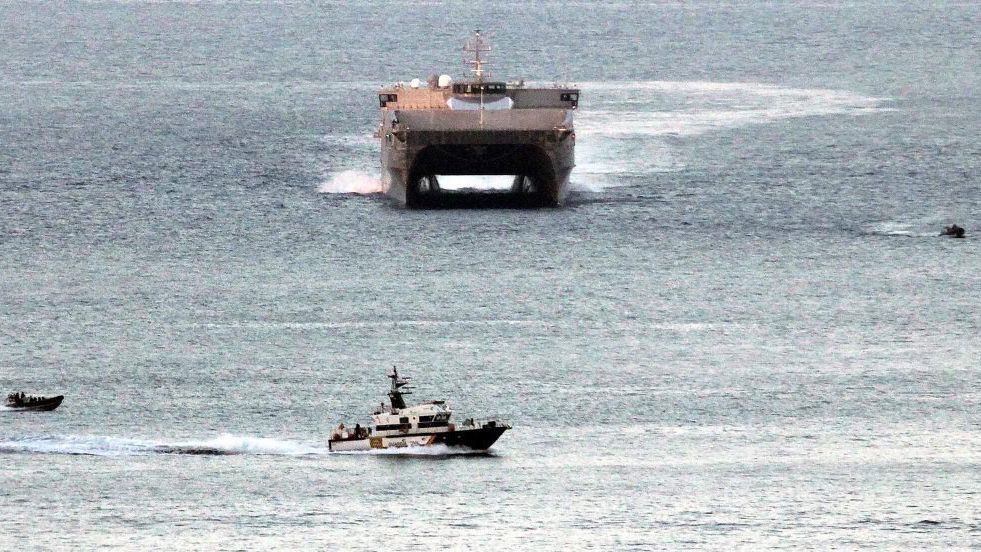 On Wednesday morning, a Spanish Guardia Civil patrol boat attempted to cut across the bow of the U.S. Military Sealift Command vessel USS Carson City as she was entering the port of Gibraltar. A RIB operated by the UK Royal Navy chased off the the Spanish boat, identified by local press as the Rio Belelle.
In photos from the scene, the Belelle can be seen approaching from starboard, giving her right of way. Diplomatic observers told the Telegraph that the event was likely a provocation intended to assert Spanish sovereignty.
The UK Foreign & Commonwealth Office downplayed the incident, citing UNCLOS. "All vessels have the right of innocent passage through another State's territorial waters, as provided by the UN Convention on the Laws of the Sea. At no point was there a risk to safety," the ministry said.
Spain lays claim to Gibraltar, which has been a UK overseas territory since 1704, and the Spanish Guardia Civil regularly enters its waters. Spanish state-owned research vessels also regularly attempt to operate into Gibraltar's territorial seas, transgressions that usually prompt a sharp response from the British government.
The incursions are common when an American military vessel calls at Gibraltar. In May 2016, the Royal Navy fast patrol boat HMS Sabre fired warning flares across the bow of a Spanish Guardia Civil vessel, the Rio Cedena, as the Cedena tried to pass in front of the American nuclear submarine USS Florida. An unnamed source told the Sun that "this is not only a very dangerous game for the Spanish to play, but it is unbecoming of a NATO ally to treat the US Navy with such contempt."
The USNS Carson City, exname Courageous, is a Spearhead-class expeditionary fast transport. The vessel and her sister ships are built of aluminum and are intended for intra-theater transportation at high speeds. They draw only 15 feet, giving them access to small or damaged port facilities.