SpaceX to Build Mars Rocket at Port of Los Angeles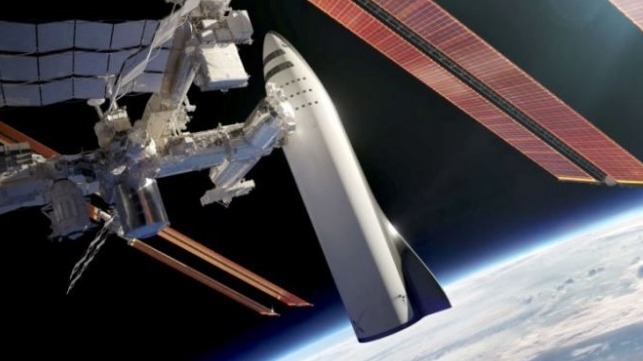 On Monday, Los Angeles mayor Eric Garcetti announced that commercial space flight company SpaceX will be building its new "BFR" spacecraft at the Port of LA. In addition to the economic value it will bring to the seaport, "this vehicle holds the promise of taking humanity deeper into the cosmos than ever before," said Garcetti.
SpaceX has negotiated a 30-year lease on 18 acres at the port's Berth 240, and if it receives approval from the Board of Harbor Commissioners, it plans to build a new manufacturing facility at the site. "As announced today by Mayor Garcetti, the Port will play an increasingly important role in our mission to help make humanity multi-planetary as SpaceX begins production development of BFR," said SpaceX president Gwynne Shotwell in a statement.
The tooling for making the BFR's main composite body, on site at Port of LA (Elon Musk / Twitter)
The waterfront location was selected because it will ease the logistics of shipping the spacecraft from the manufacturing facility to a test site in Brownsville, Texas. If all goes to plan, initial flight testing could begin next year.
SpaceX has made its name on its commercial launch services for satcom companies and defense agencies. Its business model is built in part upon the cost savings achieved by recovering its booster rockets at seaL Reusing the boosters shaves a significant part of the expense off of subsequent launches, a savings that gives SpaceX a competitive advantage. Its customers include Iridium, which is launching its next generation of LEO satellites aboard its rockets, and NASA, which has hired SpaceX to resupply the International Space Station.
The SpaceX seagoing landing platform at Port Canaveral, Florida (social media)
However, the BFR is not designed to contribute to this business line. Rather, it is intended to be "capable of carrying crew and cargo to the Moon, Mars, and beyond," says Shotwell - a distinctly non-commercial venture, according to the firm's critics. It might also have revenue-generating applications, though. SpaceX founder Elon Musk has proposed that the BFR might be used for ultra-fast passenger services: as an example, a Shanghai-to-New York flight would last just 40 minutes rather than 15 hours on an airliner.