South Korea Expands Use of Drones to Stop Illegal Chinese Fishing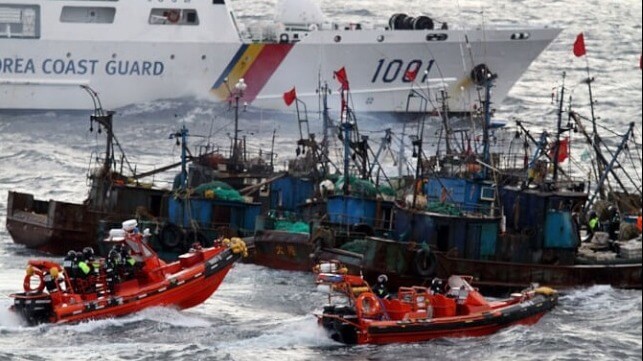 South Korea's Coast Guard reports it will expand its use of drones for monitoring activities including targeting Chinese boats engaged in illegal fishing activities. The expansion of the program comes as there have been increasing reports of Chinese incursions into neighboring countries' water and after North Korea deployed a squadron of drones over the South at the beginning of this year.
The Coast Guard plans to invest $21 million by 2028 to dramatically expand its use of drones. Officials said that they currently operate 43 multicopters, 16 unmanned aerial aircraft, and 11 unmanned helicopters. The new program will be used to purchase 144 additional drones. They plan to deploy the new drones aboard 32 of the Coast Guard's large vessels as well as from 20 stations.
A pilot program to test the use of drones was announced in December 2021 deploying seven helicopter-type drones aboard South Korean coast guard vessels. Officials said they would be testing their capabilities in search missions as well as in cracking down on illegal fishing by Chinese boats. The test drones had a capability of flying for up to 75 minutes on battery power and included a safe return feature to bring the drone back to its mothership even if communication was lost or failed. Those drones were capable of transmitting real-time video images at a distance of up to 12 miles and were also outfitted with optical thermal image equipment.
The Coast Guard said the drones will expand their capability to track and identify boats illegally fishing in Korean waters. The Chinese boats in the past have reportedly tracked the Coast Guard with their radar using it to avoid being intercepted. Drones, the Coast Guard noted can move faster than ships, and secure evidence with more ease through their cameras. The new drones will have cameras capable of recognizing small letters that are more than half a mile away. Coast Guard officials said this will help identify the names of Chinese boats conducting illegal fishing activities.
In January 2023, Korea Aerospace Industries reported a new agreement with Northrup Grumman to develop unmanned aerial vehicles for the Korean navy. They said they would be developing vertical take-off and landing drones capable of being deployed aboard ships and used for surveillance.