Solo Yachtsman Rescued Off Australia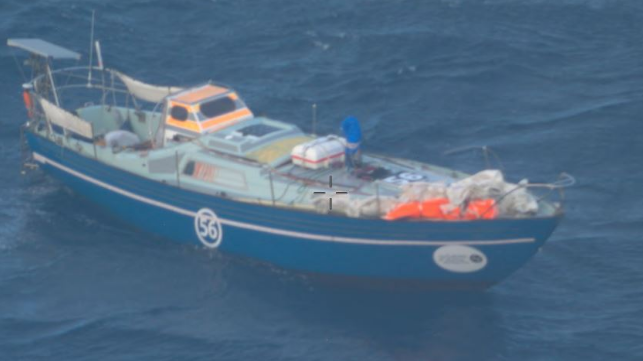 The Australian Maritime Safety Authority (AMSA) has coordinated the search and rescue operation for a French solo yachtsman in the Indian Ocean approximately 1,300 kilometers south west of Perth, Western Australia.
On Sunday October 21, AMSA initiated aid for the dismasted yacht Laaland which was taking on water. The French yacht was participating in the Golden Globe race, and the incident began when 62-year-old yachtsman Loïc Lepage first contacted Race headquarters to report that his yacht's mast had broken in two places while sailing in 25 knot winds and three meter seas. After cutting away the rigging, he was concerned that one section of the mast may have damaged the hull near the keel, but that the initial ingress of water had stopped. He did not ask for assistance and was planning to set up a jury rig at first light on Sunday and sail to Fremantle unassisted.
He later discoverd that his yacht was leaking at the rate of 30 liters of water per 10-15 minutes from an area in the keel hidden from view by a water tank. His pumps were working and keeping up with the flow, but conditions outside had deteriorated, with winds of 40 knots. He also had machinery problems as a result of the water ingress.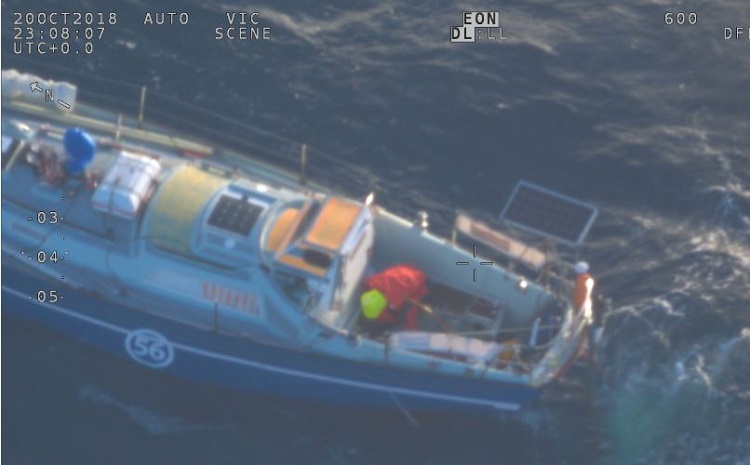 He subsequently activated a distress beacon, and AMSA sent a jet to assess the situation. On Monday October 22, AMSA tasked a nearby bulk carrier MV Shiosai to assist. Another racing yacht, SV Alizes II, was also diverted to the area. The MV Shiosai recovered the yachtsman from his yacht around noon on Tuesday, October 23. He will travel with the bulk carrier to its original destination of Las Palmas, Canary Islands.
Lepage is a highly experience solo yachtsman, having made three transatlantic crossings and spent the past three years preparing his Nicholson 32 yacht for the Golden Globe Race. Problems with his radio and a shortage of fresh water forced him to make a stop in Cape Town, which left him demoted to the Chichester Class (for those competitors forced to make one stop or receive outside assistance). But he had continued "to realize my dream" to sail solo around the globe.