Smugglers Are Abandoning Migrants on Rocky Island in Mona Passage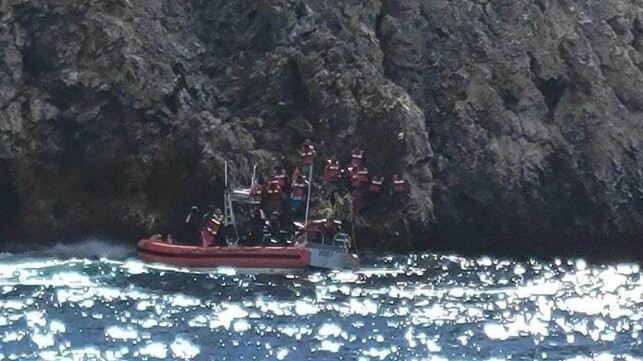 Monito Island, an uninhabited outcropping of American territory in the Mona Passage, is becoming a regular destination for migrant smugglers, according to recent reports from the U.S. Coast Guard. Twice in the last week, cutters have diverted to Monito in order to rescue migrants who were abandoned on the island by smugglers, leaving them some 40 nm short of an actual crossing to Puerto Rico.
On Tuesday, the crew of the USCGC Richard Dixon rescued 17 migrants who had been left abandoned and stranded by smugglers on the rocky island. To recover the survivors from the face of the near-vertical shoreline, Dixon's small boat crew tossed a line and a life preserver to each individual in turn, instructing them to jump in the water so they could be brought alongside and pulled aboard. All were safely rescued.
Last week, the crew of the cutter USCGC Heriberto Hernandez received a similar mission. 55 migrants had been abandoned on the shores of Monito Island, and an HC-144 surveillance aircraft spotted them on the night of January 16. The sea state was too rough to consider a rescue right away, and the island lacks any source of food or water, so U.S. Customs and Border Protection flew out supplies to the migrants on the 17th to keep them going until they could be retrieved.
The Hernandez arrived on the 19th, and her small boat crew rescued the migrants from the shoreline, one by one. The crew provided lifejackets to all, and each migrant took their turn jumping into the water while holding onto a heaving line.
"The dangers of illegal voyages in the Mona Passage are exponentially increased when smugglers leave their passengers abandoned for days in austere and dangerous environments like Monito Island," said Capt. José E. Díaz, Coast Guard Sector San Juan commander. "Most do not realize the danger they are in until it is too late, as these voyages often take place aboard makeshift and grossly overloaded vessels with no lifesaving equipment."

Migrants have landed on Monito many times before, but the rate of reports appears to be increasing. Survivors were picked up in nearly half a dozen reported incidents in the last three months.