Smuggler Gets 22 Years for Importing Meth in Cargo of Rotting Hides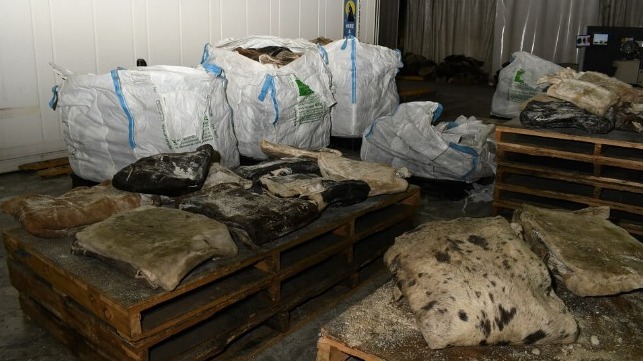 A Mexican national has been convicted of attempting to smuggle methamphetamine into Australia using a particularly noxious cargo for cover: raw frozen cow hides.
In August 2019, Australian police decided to inspect a container arriving from Mexico at the port of Melbourne. The cargo was described in the manifest as "Salty Bovine Skin Cuero Verde Salado De Bovino." Upon opening, the inspectors found that this was indeed accurate: the container was filled with 18 pallets of frozen, raw, untreated cow skins.
A team was tasked with the unpleasant task of peeling this cargo apart to check for contraband. Though smelly, this task had a reward. Hidden between the stinking skins were 167 silver packages of a white crystalline substance, which turned out to be high-grade crystal meth.
The investigators who were unlucky enough to have to deconstruct the piles of hides described the smell of the rotting cargo as "putrid."
18 days later, the authorities arrested a suspect in connection with the case - a Mexican national who was allegedly affiliated with a criminal gang. He was convicted of importing a commercial quantity of drugs in October, and on Friday, he was sentenced to 22 years in prison - including a minimum of 15 years without parole.
"Hiding drugs in untreated cow hides presented a significant biological hazard for AFP officers extracting the methamphetamine. It also demonstrates the unsafe, disgusting journey drugs can often take on their way to a consumer," said AFP Detective Superintendent Anthony Hall in a statement. "AFP officers skillfully disrupted the techniques employed by this criminal syndicate to run their illegal enterprises and collected overwhelming evidence of their attempts to coordinate the importation of harmful illicit drugs into our country."