Singaporean Partnership Gears Up to Electrify Harbor Workboat Fleet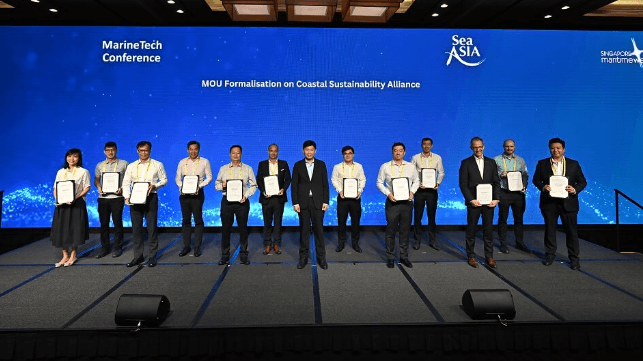 A group of Singaporean shipbuilders, shipmanagers, government agencies and operators have joined forces on a project to electrify the port city's harbor workboat sector, starting with supply boats and tugs.
The Coastal Sustainability Alliance (CSA) brings together 18 partners who plan to design, build and operate electric workboats on a common platform. Their ambitions start with standardized designs to build in series, but the project also extends into operations: the group's members are rethinking the delivery service model in order to reduce the number of trips and the amount of marine traffic along the coast.
In a recent interview, CSA Council Chairperson Mr. Tan Thai Yong – the Chief Executive Officer of shipbuilder PaxOcean – told The Maritime Executive more about this collaborative initiative and its long-term goals.
Can you tell us about CSA's plans to reduce coastal marine traffic off Singapore's shores? What kind of technology and operational changes will this require, and how will it affect ships calling at Singapore?
The Coastal Sustainability Alliance (CSA) members recently conducted a collaborative study on the existing operating model within our coastal supply chain. As a result, we have identified three key optimization opportunities that require joint efforts from our coastal community to address.
First, we have upgraded the e-supply vessel sizes to carry more cargo, reducing the number of deliveries constrained by current vessel sizes. With a more extensive supply capacity, this will help improve efficiency and reduce maritime traffic and carbon emissions.
Another focus area is to optimize orders management. We aim to do so through collaboration among the CSA members to share data and consolidate orders. This joint optimization effort will thus reduce excessive waiting times and allow for fleet scheduling and size optimization for operational efficiency.
Furthermore, with larger vessels carrying more cargo and optimized order management, we can gain efficiencies from the delivery process. And this is the third opportunity we are working on, that is, to optimize delivery management by consolidating multiple deliveries into a single trip. Through our partners' collective efforts, the CSA aims to reduce coastal marine traffic by 20 percent and improve safety through such logistics and fleet optimization solutions.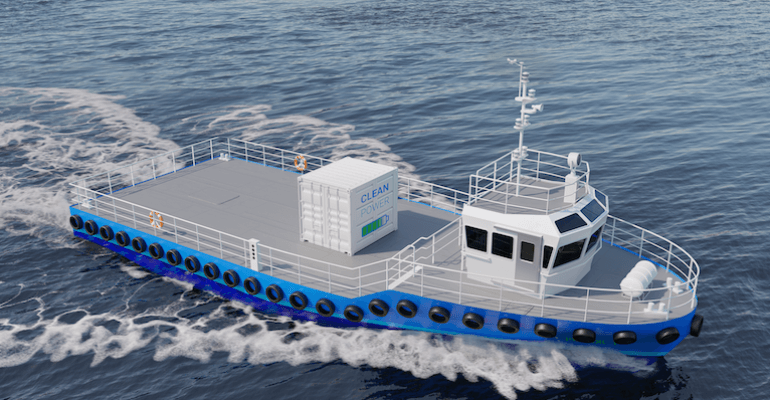 Green energy solutions firm Ken Energy recently inked an LOI to purchase the first PXO e-supply boat (Illustration courtesy of PaxOcean)
Can you tell us about the advantages of having a common e-boat design that is accessible to all operators?
As a multi-stakeholder alliance, the CSA members consist of organizations representing commercial, technology, and research entities. Establishing a common PXO electric platform allows for the latest and most effective technologies to be shared and scaled across the entire series of electric vessels (e-vessels) within the local ecosystem. The key benefits include vessel technology, utilization, reduced costs, compliance and electric charging efficiency.
For vessel technology, CSA has the resources to design and optimize vessel design and components, ensuring thorough consideration and support for all operational needs. Customers are assured of an energy efficient electric vessel that is future-proofed.
In addition, the projected production scale allows for cost efficiencies and supports local production lines, reinforcing supply chain resilience and timely availability of parts and labor to minimize vessel downtime. This translates to higher vessel utilization rates compared to vessels with higher overseas content, resulting in increased vessel reliability for customers.
CSA also proactively engages all authorities and government agencies to provide timely industry feedback, comply with standards, and right-sizing future needs and infrastructure planning. This ensures customers' vessels comply with regulatory requirements and will be regularly upgraded as required, with minimal disruptions.
The consortium will also create efficiencies for electric charging. CSA's PXO vessels will be collectively monitored on a common platform for their remaining range and scheduled for recharging with minimal wait times.
Can you tell us about future vessel classes in the PXO series that we might expect to see in the years ahead?
Our current focus is to build up the PXO series of e-tugs and e-supply boats and to ensure these vessels are fully optimized before moving on to other vessel types. We welcome partners who share our vision to join us in building the next-generation electric coastal vessels and ecosystem.
Singapore is known for supporting its maritime industry - can you tell us about how its agencies have helped foster the CSA partnership?
The Maritime and Port Authority of Singapore (MPA) has played a critical role in fostering an innovative and collaborative environment contributing to Singapore's strong global maritime hub status. This has allowed the CSA to flourish through constant dialogue and engagement, such as sharing operating requirements and standards for our planning and compliance.
A*STAR (Agency for Science, Technology and Research) and Technology Centre for Offshore and Marine, Singapore (TCOMS) have provided technical know-how and infrastructure for the various maritime technologies deployed. For instance, we are collaborating with TCOMS on the digital twinning of the PXO e-supply vessel. Such technology will enable us to optimize the vessel's operational performance navigating various metocean conditions.
Enterprise Singapore has been instrumental in helping SME (Small and Medium Enterprises) partners upgrade their operational, technology and strategic capabilities to actively support CSA's efforts. We are also partnering with Workforce Singapore to create a future-ready talent pool through career growth opportunities, skills development and training to increase the competitiveness of our Alliance members.
These collaborative efforts have enabled the CSA to harness our alliance partners' collective expertise and resources to drive sustainable and innovative solutions for the coastal supply chain, ultimately benefitting the entire ecosystem.