Singapore?s First Dual-Fuel LNG Bunker Vessel Ordered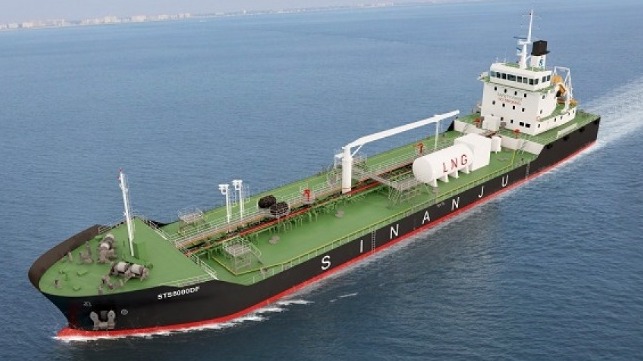 Keppel Offshore & Marine has been awarded a contract with Mitsui & Co (Asia Pacific) to build Singapore's first dual-fuel bunker tanker.
The tanker will be owned and operated by Singapore-based Sinanju Tankers and is scheduled for delivery in the second half of 2019. The 7,990 dwt bunker tanker will be the first LNG-fueled bunkering vessel for Singapore and for Sinanju Tankers. She will deliver marine fuels to ocean-going vessels within local port limits.
The 103-meter (338-foot) vessel will have a 55 cubic meter LNG tank with a fuel gas supply system on deck to supply gas to the engine. She will have pipelines and tanks suitable for carrying multiple grades of marine fuel. Classification services are being provided by Bureau Veritas.
As part of the contract, Sinanju Tankers and Mitsui have an option to order a second similar tanker to be exercised within six months from the effective date of the first contract.
Sinanju will receive co-funding of up to S$2 million ($1.5 million) to build the vessel as part of the Maritime and Port Authority of Singapore's LNG bunkering pilot program.
"Sinanju aims to kick start a green initiative for bunker tankers operating in Singapore, for our vessels to emit less air pollutants while boosting the local use of LNG as a bunker fuel. We will be in good stead when embarking in ship-to-ship LNG bunkering as our next milestone," said Ju Kai Meng, Managing Director of Sinanju Tankers.
The dual-fuel bunker tanker will be the third vessel to be built by Keppel Singmarine under the program and the seventh dual-fuel vessel built by Keppel O&M. The company recently delivered the world's first converted FLNG vessel Hilli Episeyo and is currently building two dual-fuel harbor tugs for Keppel Smit Towage and Maju Maritime, two dual-fuel LNG carriers for Stolt-Nielsen Gas and two dual-fuel container ships for Pasha Hawaii.
In addition, its joint venture with Shell Eastern Petroleum, FueLNG, is a licensed LNG bunker supplier in Singapore providing truck and vessel bunkering solutions.