Senator McCain Joins Forefathers as USS McCain's Namesake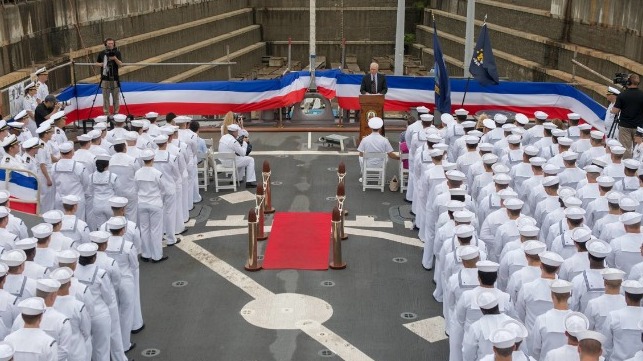 On Thursday, U.S. Secretary of the Navy Richard V. Spencer added Senator John S. McCain to the list of namesakes for the Arleigh Burke-class destroyer USS John S. McCain.
The warship bears the name of Sen. McCain's father, Adm. John S. McCain Jr., and his grandfather, Adm. John S. McCain. Adm. McCain (senior) was a carrier task force commander in the Second World War, and Adm. McCain, Jr. served as commander of U.S. Pacific Command during the war in Vietnam.
Sen. John S. McCain III was born on a naval base in Panama in 1936, and he served as a naval aviator during the Vietnam War. He was taken prisoner and held by North Vietnamese forces for over five years, and he was tortured in captivity. He entered politics upon his return to the United States, first as a congressman, then as a senator and a presidential candidate. He is in his sixth term in the Senate, and he chairs the powerful Armed Services Committee. He is known for his support for military funding, opposition to the Littoral Combat Ship program, hawkish views on Russia and pointed criticism of the Trump administration.
In a ceremony in Yokosuka, Secretary Spencer formally added Sen. McCain's name to the USS McCain's list of namesakes. "Today, we add the story of Sen. John S. McCain to the spirit of the mighty vessel which already carries the legacy of his father and grandfather," said Spencer. "As a warrior and a statesman who has always put country first, Sen. John McCain never asked for this honor, and he would never seek it. But we would be remiss if we did not etch his name alongside his illustrious forebears, because this country would not be the same were it not for the courageous service of all three of these great men."
The ceremony occured in drydock at Ship Repair Facility-Japan, where USS McCain is undergoing major repairs to her hull and ships' systems. She was involved in a collision with the tanker Alnic MC off Singapore in June 2017, which led to $220 million in damage and the death of 10 sailors.
Sen. McCain last visited the USS McCain during a port call in Cam Ranh, Vietnam in 2017. He did not attend the ceremony Thursday, as he is presently undergoing treatment for brain cancer.
Sen. McCain with a painting of his forefathers aboard the USS McCain at Cam Ranh, 2017 (Sen. McCain / Twitter)