Second Ship Departs Odesa, Defying Russian Threats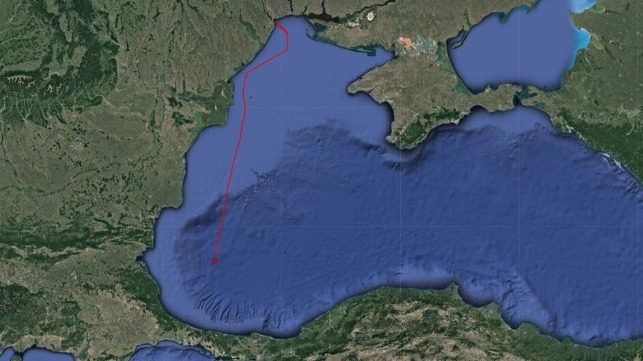 A second merchant ship has departed Odesa using a transit corridor sponsored by the government of Ukraine, defying Russian threats against shipping in the northwestern Black Sea.
The freighter Primus departed Odesa on Saturday. The vessel broadcast AIS continuously throughout the voyage, and did not appear to attempt to stay close to shore, within the territorial seas of coastal states. After clearing Ukraine's territorial seas, the ship made a direct course for the Bosporus through international waters, passing through an area previously patrolled by Russian warships.
The transit is another test case for Ukrainian efforts to reopen navigation to and from its Black Sea ports, which are essential to sustaining its agricultural exports. The first vessel to attempt the trip without Russian permission was the container ship Joseph Schulte, a Chinese-owned, Hong Kong-flagged post-Panamax. It had been in Odesa since just before the day of the Russian invasion last year.
When the Joseph Schulte left Odesa on the first trial crossing, it sailed as close as possible to the shores of nearby coastal states, keeping clear of international waters where it could be harassed or boarded by Russian forces.
A de facto Russian blockade threatens all traffic to Odesa and other nearby grain ports, and Western insurers have suspended cover for voyages on this route. Without deep-sea shipping, Ukraine's agricultural exporters are selling about 30 percent less wheat, corn and oilseed overseas. With the help of neighboring partners in Romania and Bulgaria, Ukraine's government hopes to prove the safety of an independently-created shipping route - and set up its own government-backed insurance service to cover it.
The contest of wills over Ukraine's shipping lanes is just part of a broader fight for control of the maritime battlespace in the Black Sea. Ukraine has developed a range of explosives-laden drone boats for mounting attacks on Russian warships, and has used them with limited success. Ukrainian intelligence chief Kyrylo Budanov recently told a VOA affiliate that about 70 percent are intercepted by Russian defenses, but the remaining 30 percent cause serious damage. Ukraine's navy has formally set up a drone division, and Budanov says that the devices are now in serial mass production.
According to UK Defence Intelligence, Ukrainian and Russian forces have also been fighting over control of several oil and gas platforms in the waters between Odesa and Crimea. The platforms are operated by Russian-controlled Chernomorneftegaz, but they have secondary uses for Russian military forces. The platforms could be equally useful for both sides, serving as "forward deployment bases, helicopter landing sites, and to position long-range missile systems," UK defense analysts assessed.