Seaspan Plans Expansion at its Vancouver Repair Yard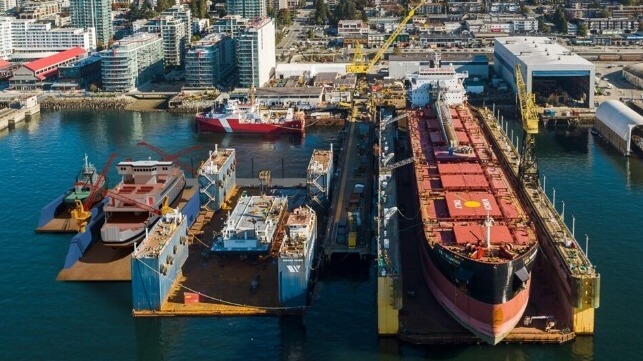 Canadian shipbuilder Seaspan is investing in expansion at its Vancouver ship repair operation, augmenting its government shipbuilding business with additional private- and public-sector work.
Seaspan has consolidated its ship repair and maintenance projects at Vancouver Drydock, and the yard has been quite busy for several years. The drydock expansion will increase Seaspan's ship repair capacity by about 30 percent, and it will create about 100 new well-paid jobs for the regional economy. The yard currently employs about 200 people and works on more than 50 vessels a year, ranging in size from tugs to cruise ships.
The new project includes expanding the working waterfront by 130 feet and adding two new, smaller floating drydocks alongside the existing two, one measuring about 330 feet long and the other about 180 feet. The yard will also add another floating work pontoon. Taken together, the improvements should expand the yard's service capacity by about 30 percent.
Construction of the new yard will begin soon and should be finished next year.
The Vancouver Fraser Port Authority approved the permit for the expansion last month. According to the port, the additional two floating drydocks for the shipbuilder's yard expansion "will be purchased on the global market."
"Seaspan Vancouver Drydock plays an integral role in supporting the West Coast marine industry and creating long-term work for BC's skilled workforce. By investing in improvements to better use our land and the space within our water lots, we will be able to serve more customers, create new jobs and harness new economic activity for our communities," said Paul Hebson, Vice President and General Manager of Vancouver Drydock, in a statement Thursday.