Seaspan Buys 18 Boxships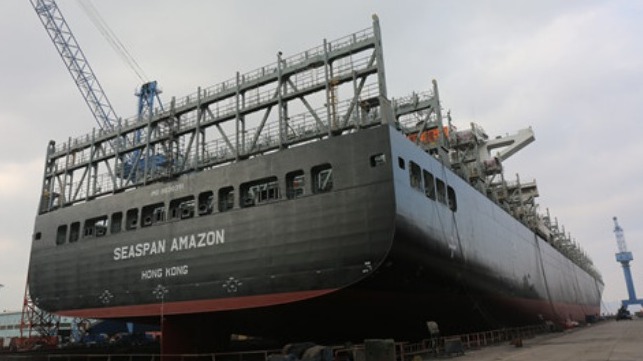 Vancouver-based shipowner Seaspan Corporation has acquired Greater China Intermodal Investments (GCI), a holding company owned by The Carlyle Group and other investors. The purchase expands Seaspan's fleet with 18 modern boxships of 10,000-14,000 TEU. 16 are already on the water and two newbuilds will be delivered this year.
"With GCI's fleet now under our ownership, we are strengthening our partnerships with customers and enhancing our scalable integrated platform for sustained growth and future consolidation," said Bing Chen, Seaspan Corp.'s CEO and president. "As the container shipping industry is beginning to show signs of a recovery, we are taking decisive actions to capitalize on compelling opportunities."
The two firms had a long and close relationship before the purchase. All of the vessels are sister ships to Seaspan Corp. vessels, and Seaspan already operates them on behalf of GCI. Before the acquisition, Seaspan held 11 percent of GCI and had one position on its board.
In addition to The Carlyle Group, GCI's other owners were the Dennis Washington-controlled Blue Water Commerce and the Graham Porter-controlled Tiger Management Limited. Porter was on Seaspan Corp.'s board until April 2017, and Washington is Seaspan Corp.'s largest shareholder.
Seaspan Corp. purchased the balance of GCI's shares with $330 million in cash and $50 million in new shares. It sourced the capital for the purchase from its own balance sheet, plus a $100 million credit facility from Citi and a $16 million reinvestment by the Washington family. A new $250 million investment by Fairfax Financial Holdings will also facilitate the purchase.
As of the end of 2017, Seaspan Corp. had 89 ships on charter, including 37 leased by China COSCO. The balance are on charter to MOL, Yang Ming, K-Line, Maersk, CMA CGM, MSC and other top players. The acquisition will take its total fleet (including its orderbook) to 112 vessels.
[Note: Seaspan Corp. is distinct from Seaspan ULC, a shipyard, tug and ferry operator based in Vancouver.]