Search efforts are continuing further from shore for five missing Army aviators missing from a downed U.S. Army UH-60 Black Hawk helicopter approximately two miles west of Ka'ena Point, the western tip of Oahu, Hawaii.
Swift and dynamic currents prompted the expansion of the search area which is now up to 160 miles offshore from Ka'ena point.
By Sunday afternoon, responders had conducted 113 separate sorties. At that time, the effort has covered more than 68,000 square nautical miles (90,000 square statute miles).
Small debris has been spotted and recovered. On Wednesday, firefighters found and collected what appeared to be pieces of helicopter fuselage and a helmet.
The search began late Tuesday following notification to the Coast Guard from personnel at Wheeler Army Airfield stating they lost communication with one of their UH-60 Black Hawk aircrews. The missing aircrew was reportedly engaged in night time training operations between Ka'ena Point and Dillingham Airfield.
In colder areas where ocean temperatures are below 60 degrees, a search would typically be over in 24 to 36 hours even if no one was found. However, in Hawaii, where ocean temperatures are often over 75 degrees and air temperatures are warmer, people can survive longer.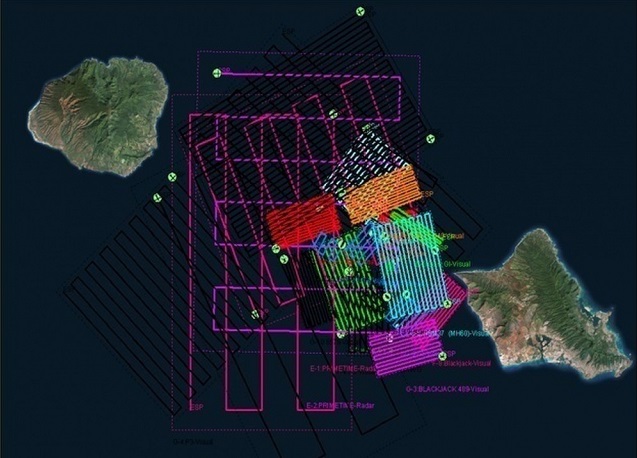 Searching are:
* Coast Guard Cutter Walnut (WLB 205) and crew from Honolulu
* Coast Guard Cutter Galveston Island (WPB 1349) and crew from Honolulu
* Coast Guard HC-130 Hercules airplane crew from Air Station Barbers Point
* Coast Guard MH-65 Dolphin helicopter crew from Air Station Barbers Point
* Navy P-3 Orion aircrew from Marine Corps Base Hawaii at Kaneohe Bay
* Navy MH-60 Seahawk helicopter crew from Marine Corps Base Hawaii at Kaneohe Bay
* Coast Guard 45-foot Response Boat-Medium Station Honolulu
* Coast Guard 45-foot Response Boat-Medium Station Kauai
* Two UH-60 Black Hawk from Wheeler Army Airfield
* CH-47 Chinook helicopter aircrew from Wheeler Army Airfield
* Shore patrols and a helicopter crew from Honolulu Fire Department
* Shore patrols from Kauai Fire Department
* Crews from Ocean Safety and Lifeguard Services
* Crew from the Hawaii Department of Land and Natural Resources
* Shore patrols from the Army and Coast Guard Sector Honolulu