Search Ends For Sailors in C-2A Crash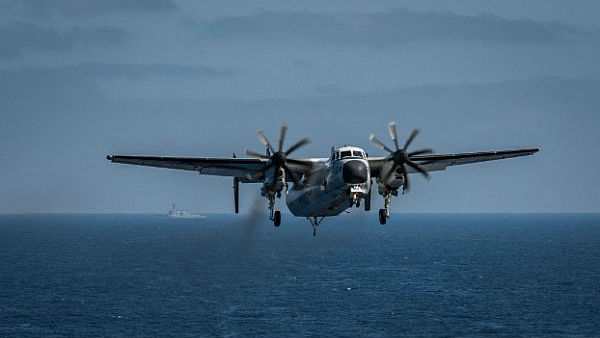 The U.S. Navy ceased search and rescue operations at 10:00 a.m. Japan Standard Time on Nov. 24 for three Sailors not immediately recovered after a C-2A Greyhound plane crashed on the afternoon of November 22.
USS Ronald Reagan (CVN 76) led the combined search and rescue efforts with units from the Japan Maritime Self-Defense Force (JMSDF). During the course of two days, seven U.S. Navy and JMSDF ships, three helicopter squadrons and maritime patrol aircraft covered nearly 1,000 square nautical miles in the search for the missing sailors.
The aircraft was conducting a routine transport flight carrying passengers and cargo from Marine Corps Air Station Iwakuni to USS Ronald Reagan. Eight Sailors were immediately recovered from the crash and transferred to Ronald Reagan for medical evaluation. All are in good condition at this time.
"Our thoughts and prayers are with our lost shipmates and their families," said Rear Adm. Marc Dalton, Commander, Task Force 70. "As difficult as this is, we are thankful for the rapid and effective response that led to the rescue of eight of our shipmates, and I appreciate the professionalism and dedication shown by all who participated in the search efforts."
The Sailors names are being withheld pending completion of next of kin notifications.
An investigation into the cause of the crash is expected to begin shortly. Japanese defense minister Itsunori Onodera told media that the U.S. military suspects that engine trouble may have been a factor.
The twin-engine Grumman C-2A Greyhound cargo aircraft design dates back to the mid-1960s, and its primary mission is to fly up to 10,000 pounds of goods at a time onto the decks of the Navy's carriers. The original fleet was replaced with new models in 1987-1990, and a service life extension will allow the current airframes to continue service until 2027. The Navy has selected the V-22 Osprey to replace the aging C-2A fleet, and deliveries will begin in 2020.
The following ships and aircraft assisted in the search efforts: U.S. Navy guided-missile destroyers USS Stethem (DDG 63), USS Chafee (DDG 90) and USS Mustin (DDG 89); MH-60R Seahawk helicopters of the "Saberhawks" from U.S. Navy Helicopter Maritime Strike Squadron (HSM) 77 and "Warlords" of HSM 51; MH-60S helicopters from Helicopter Sea Combat Squadron (HSC-12); P-8 aircraft from the "Fighting Tigers" of U.S. Navy Maritime Patrol and Reconnaissance Squadron (VP) 8; P-3 Orion aircraft of the "Red Hook" U.S. Navy Maritime Patrol and Reconnaissance Squadron (VP) 40; JMSDF Helicopter Carrier JS Kaga (DDH 184) and JS Ise (DDH 182); JMSDF Akizuki-class destroyer JS Teruzuki (DD 116); JMSDF Murasame-class destroyer JS Samidare (DD 106), and JMSDF Hatakaze-class destroyer JS Shimakaze (DDG 172).