Search Effort Continues for Missing Argentine Fishermen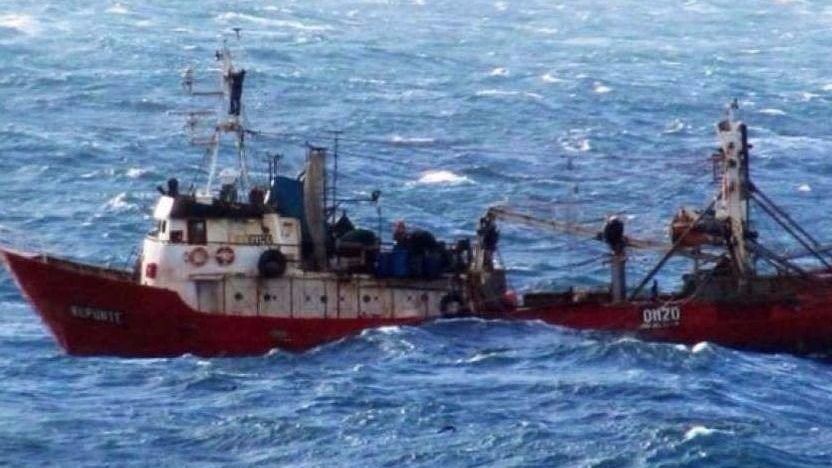 An Argentine Navy salvage vessel is working with a remotely operated vehicle to inspect the hull of the shrimp trawler Repunte, which sank in a storm about 35 nm off of the port of Rawson, Argentina on June 17. Seven men remain missing ten days after the vessel went down, and the SAR effort continues.
Three crew members were found dead and two were rescued near the site of the sinking. SAR forces also recovered debris, empty life rafts and life vests nearby. Humberto Haunau, head of the naval prefecture in Comodoro Rivadiva, told newspaper El Dia that based on the evidence at the scene, any remaining survivors were not able to board the Repunte's rafts.
The two known survivors were identified as Julio Guaymas, 39, who was lifted from the water by a SAR helicopter; and Lucas Trillo, 35, who was rescued by a good samaritan fishing vessel.
Newspaper Los Andes reports that dozens of relatives and friends of the missing organized a protest march through the port of Mar Del Plata to demand answers from the shipowner and from the maritime authorities. The port's head of the maritime prefecture, Gustavo Campanini, said that the authorities have no record of irregularities aboard the Repunte before she went down.
In a statement, the Argentine Union of Naval Workers (Mar del Plata branch) contended that the state of the nation's fishing fleet was largely to blame for the sinking. "We have a fleet that, on average, is between 30 and 40 years old. This is a fundamental aggravating factor of the situation in which urgent action must be taken," the union wrote. "We are responsible for denouncing the current state of the fishing fleet and proposing solutions to a problem that directly affects the safety of thousands of workers."
The leftist Workers Party (Partido Obrero en el Frente de Izquierda) went further, alleging that the Repunte had been laid up for years and that her owner had obtained fishing permits through corrupt means.