Seafarer Survives Four Days at Sea with Fractured Spine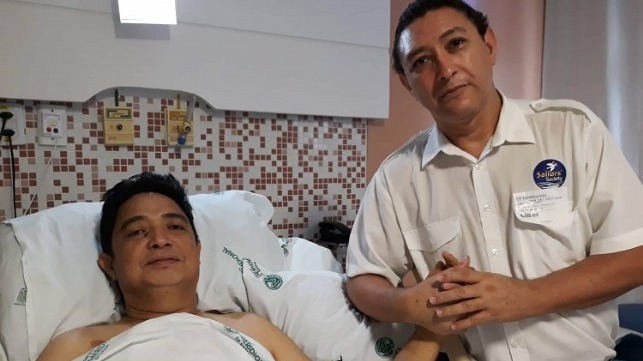 A Filipino seafarer is recovering in hospital after fracturing his spine falling from a ladder on November 14.
Adriano Gicos, 55, was descending into the ship's hold when he slipped and fell four meters, while voyaging from Singapore to Brazil. His colleagues had to use a crane to get him back to his cabin, where they administered basic first aid.
As a result of the fall, Gicos, a chief officer, suffered serious spinal injuries, which have required surgery to enable him to walk again. He is recovering in Meridional Hospital in the Brazilian city of Vitória, where he is being cared for by Ailton De Souza, a port chaplain from international maritime charity Sailors' Society. De Souza said, "A few days ago Adriano could only move his fingers and he needed help eating." Although currently unable to walk, he is receiving daily physiotherapy and his movement is slowly returning.
Gicos has been at sea for more than 20 years, and this is the first accident he's had in his career.
De Souza said, "He said he was focused on what he was doing and couldn't understand how it happened."
Sailors' Society's CEO Stuart Rivers, said, "Seafaring is one of the most dangerous jobs going. Seafarers like Adriano risk their lives to deliver 90 percent of the goods we rely upon daily. When crises like this strike, our team is on hand to support seafarers and their families in need."