Sea Shepherd Unveils New Vessel
Sea Shepherd Conservation Society unveiled its newest vessel, the M/V Sharpie, in Miami on Monday.
The vessel, formerly known as the U.S. Coast Guard cutter Bainbridge Island, is powered by two diesel engines and has a maximum speed of 29.5 knots and a range of 3,300 nautical miles.
The group's founder, president, and CEO, Captain Paul Watson said that the vessel would be joining its sister ships the M/V Farley Mowat and the M/V John Paul DeJoria in the Sea of Cortez for Operation Milagro IV, a campaign to save the critically endangered vaquita porpoise. All three ships are 110-foot (34-meter) Island-class patrol boats.
"With this vessel, I believe we will be able to cover the vaquita refuge 100 percent and make a very serious impact," said Watson. About 30 vaquita are believed to be left remaining in existence, and many have said that trying to save them is a lost cause.
"It's always been my opinion, that the only causes really worth fighting for are lost causes," said Watson. "It's incredible how many times Sea Shepherd has pulled through, and lost causes have turned into victories."
Chris Sharp, the founder of several all-natural biomedical companies, has been a Sea Shepherd donor for years and has sponsored the purchase of the vessel. Los Angeles-based Sharp is the founder of companies such as Skye Biologics Inc., Human Regenerative Technologies and Osprey Biomedical Corp.
Last week it was announced that Captain Sandy Yawn, star of Bravo Media's series Below Deck Mediterranean, had been brought on as captain of the new ship. Yawn has over 27 years of yachting experience, chartering yachts around the world from the Mediterranean to the Persian Gulf. She is one of the few female captains in the yachting industry.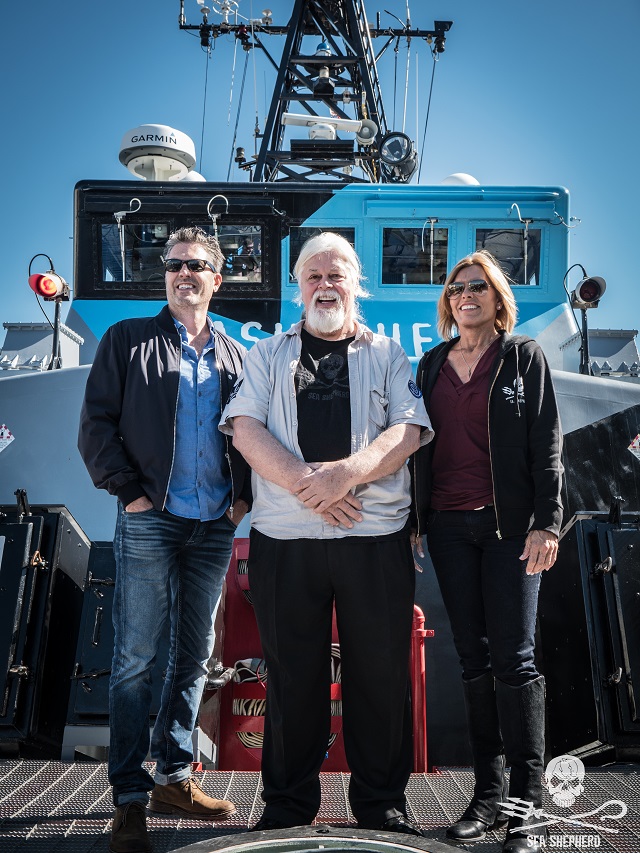 Sharp, Watson and Yawn
Crew