Scottish Group Calls for Help to Save Historic Ship
An international appeal is underway to save the Falls of Clyde, a four-mast sailing ship built in Glasgow 140 years ago. International Save The Falls of Clyde Campaign is working in conjunction with the Hawaiian group Friends of Falls of Clyde to get her transported from Hawaii back to Scotland and rebuilt.
The 285-foot long and 40-foot wide vessel built by shipbuilders Russell & Co. in 1878 has a wrought-iron hull. She entered service as part of the Falls Line fleet - all of which were named after Scottish waterfalls – and she sailed to ports on all continents except Antarctica.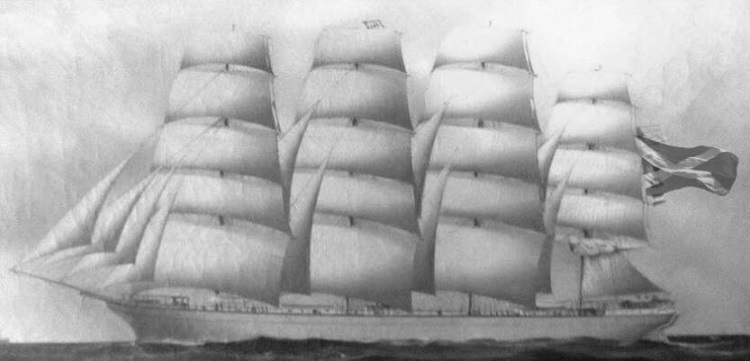 In January1898, flying the Hawaiian flag, the Falls of Clyde arrived in Honolulu after being sold to an agent of Captain William Matson. He modified the ship's rig to that of a bark and built a large wooden deckhouse forward and a charthouse on the poop deck. Later registered in the U.S., she carried sugar from Hilo to San Francisco until 1906 when the Associated Oil Company in which Matson had an interest bought her and converted her into an oil tanker. After 10 tanks were added within the hull, she had a carrying capacity close to 750,000 gallons. She also carried molasses from Hilo to San Francisco over the next13 years. In 1921, she was sold to the General Petroleum Corporation who, after de-rigging the ship, then used her as a floating petroleum depot in Ketchikan, Alaska.
Nearly three decades later, she was taken out of commercial service and was on the verge of being sunk to form a breakwater when Honolulu Advertiser columnist Bob Krauss came to her rescue. Supporters and school children raised money to help bring her back to Hawaii, and the U.S. Navy contributed by towing the Falls of Clyde from Seattle to Honolulu in 1963.
With financial support from people around the world and hundreds of volunteers working on a variety of restoration projects, the Bishop Museum, which had taken over management of the ship's operations, opened the Falls of Clyde to the public in 1971 at Pier 5 in Honolulu Harbor. Over the next decade, tens of thousands of people visited the ship.
However, during Hurricane Iwa in 1982, the ship sustained major damage. Krauss and other supporters formed the original Friends of The Falls of Clyde group which then took control of the vessel. A few months later, the Falls of Clyde was named a National Historic Monument by the National Parks Service, and restoration work began.
Despite this, her future remained uncertain, and she was again saved from being scuttled. The Save Falls of Clyde International Campaign was launched in August 2016 when Honolulu Harbour impounded her. Their aim is to now return her to Scotland.
"We are now planning a public event where she will receive a traditional Hawaiian farewell send off accompanied by traditional war canoes. On the shoreline, there will be a party with traditional Hawaiian and Scottish food, song and dance as the public says goodbye after 75 years in Hawaii," says Campaign Coordinator, David O'Neill.
The group has secured free passage for the vessel through the Panama Canal, and tug services have been volunteered. "We are seeking one or many brands to help us reach part of our costs to complete the lift operation," says O'Neill. "We are asking for pledges, by email to [email protected] or to the Facebook page."
On arrival in Europe she will receive a traditional Scottish welcome in the River Clyde with plans to replicate her escorting flotilla. This is anticipated to include tall ships from across Europe.
"Once restored the ship will maintain her connection to Hawaii and visit the islands to trade and allow students to sail on her as part of our global education plans," says O'Neill. "Students will spend five months at sea, and we will offer places to kids who have not quite had a good education or who have left school early or perhaps been offenders. They can experience a journey of a life time and give back to society while gaining a life changing experience that will ready them to face any of life's challenges."
Additionally, the ship will be involved in ocean cleanup campaigns and trade in fair trade cargoes in conjunction with Fair Transport Europe and Sail Cargo Alliance, carrying cargoes such as rum, coffee and chocolate.