Saudi Coalition and Houthi Forces Reach Hodeidah Ceasefire Deal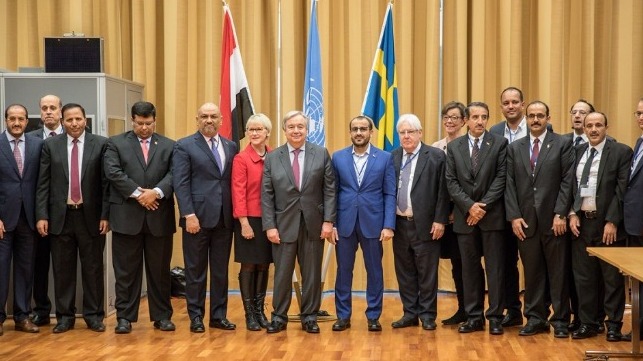 Diplomats representing Houthi rebels and a Saudi-led government coalition have reached an agreement on a ceasefire in Hodeidah, the seaport city that handles the majority of the nation's food supply. The UN believes the conflict in Yemen is the world's worst humanitarian crisis, with millions of civilians near starvation as the long-running civil war disrupts economic activity, and Hodeidah is the primary gateway for the aid logistics effort.
Under the new agreement, Saudi-backed and Houthi forces will both withdraw from Hodeidah and enter into a ceasefire for the surrounding region, effective within 21 days. The withdrawal from the port itself will happen even sooner, according to lead UN negotiator Martin Griffiths. As the military forces withdraw, the UN will play a key role in the port to facilitate humanitarian access and the flow of aid supplies to the population.
If the deal is implemented successfully, it could mark a major turning point for aid organizations, which have struggled to funnel food and supplies through the port and out to civilian populations.
"The international community must continue to put pressure on all sides to urgently address the humanitarian crisis to avoid a full-blown famine. That means easing restrictions on humanitarian and commercial imports, stabilizing the collapsing economy and stopping the fighting," said Save the Children country director Tamer Kirolos. "This is literally a matter of life and death, in a country where some 85,000 children are already believed to have died from extreme hunger and disease."
The ceasefire deal was announced just hours before the U.S. Senate voted to cut off American support for the Saudi coalition in Yemen. It was the first time that the Senate has ever invoked the 45-year-old War Powers Act, which requires the president to seek congressional approval for a military action. The resolution is unlikely to have a legally binding effect, but it is widely viewed as a warning of the legislature's discontent with Saudi policy in Yemen. The Senate can delay arms sales to overseas buyers, and the Saudi military relies heavily on American spare parts, munitions and equipment.
"It's hard to find an American who supports our involvement in the Saudi-backed military conflict in Yemen. Today the Senate sent a message that we shouldn't be involved in this conflict any longer," wrote Senator Mike Lee, Republican of Utah, in a statement after the vote.