Saudi Aramco Signs Mega-Refinery Deals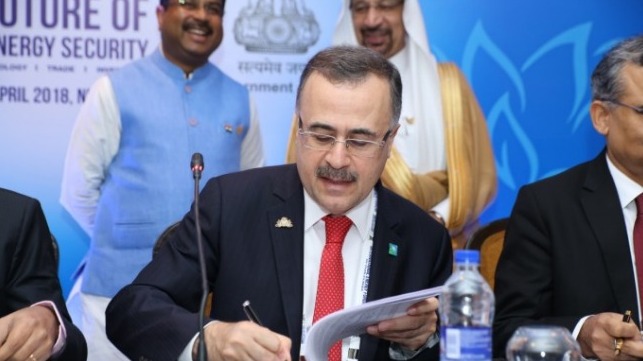 Saudi Aramco has participated in business discussions around the world over the last month - signing refinery deals with Total, Petronas and an Indian petrochemical consortium.
The deal with Total involves the signing of a memorandum of understanding to build a giant petrochemical complex in Jubail, Saudi Arabia. The complex will be integrated downstream of the SATORP refinery, a joint venture between Saudi Aramco (62.5 percent) and Total (37.5 percent) in Jubail, in a move designed to fully exploit operational synergies. The refinery's capacity increased from 400,000-barrel-per-day at its start-up in 2014 to 440,000-barrel-per-day today.

Located next to the SATORP refinery in the same industrial area, the complex will comprise a world-size mixed-feed steam cracker (50 percent ethane and refinery off-gas) with a capacity of 1.5 million tons per year of ethylene and related high-added-value petrochemical units. The project will represent an investment of around $5 billion. The two partners are planning to start the front-end engineering and design (FEED) in the third quarter of 2018.

The cracker will feed other petrochemical and specialty chemical plants representing an overall amount of $4 billion investment by third party investors. In total, $9 billion will be invested in the project which will produce more than 2.7 million metric tons of high value chemicals.
"I think the oil market is very healthy. This year, and even last year, things are improving. We are seeing healthy demand," said Amin H. Nasser, President and Chief Executive Officer of Saudi Aramco. "Of course [Saudi Arabia's] Vision 2030 is looking at sustainable economic growth and diversification away from hydrocarbons. It doesn't mean we are going to leave hydrocarbons. In fact we are going to strengthen hydrocarbons but at the same time, diversify the economy to be less dependent on the oil and gas sector."
Deal Signed for a Mega-Refinery in India
In announcing a deal made in India this week, Nasser said: "Investing in India is a key part of Saudi Aramco's global downstream strategy, and another milestone in our growing relationship with India."
Saudi Aramco signed a memorandum of understanding with Ratnagiri Refinery and Petrochemicals Ltd. (RRPCL), a consortium of Indian oil companies which includes The Indian Oil Corporation, Bharat Petroleum Corporation and Hindustan Petroleum Corporation, to jointly develop and build an integrated mega refinery and petrochemicals complex at Ratnagiri, a port city in the state of Maharashtra.
A pre-feasibility study for the refinery has been completed and the parties are now finalizing the project's overall configuration. The refinery will be capable of processing 1.2 million barrels of crude oil per day. It will produce a range of refined petroleum products, including gasoline and diesel, meeting BS-VI fuel efficiency norms. The refinery will also provide feedstock for the integrated petrochemical complex, which will be capable of producing approximately 18 million tons per annum of petrochemical production.
In addition to the refinery, cracker and downstream petrochemical facilities, the project will include associated facilities such as crude oil and product storage terminals. The project cost is estimated at around $44 billion.
"The signing marks a significant development in India's oil and gas sector, enabling a strategic joint venture and investment partnership that will serve India's fast-growing demand for transportation fuels and chemical products. Participating in this mega project will allow Saudi Aramco to go beyond our crude oil supplier role to a fully integrated position that may help usher in other areas of collaboration, such as refining, marketing, and petrochemicals for India's future energy demands," said Nasser.
An Alliance in Malaysia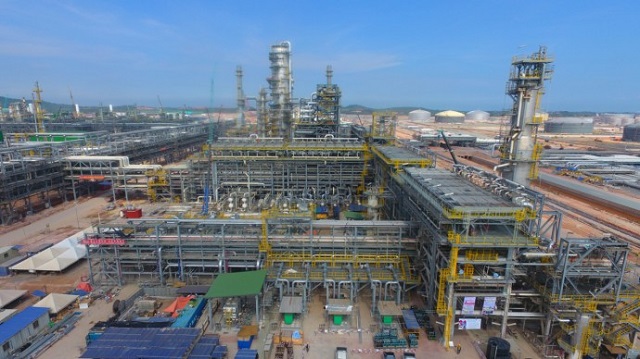 Saudi Aramco has formed two joint ventures with Petronas, the national oil company of Malaysia, to participate in Malaysia's Refinery and Petrochemical Integrated Development (RAPID) project. The agreements allow the parties equal ownership and participation in a new refinery and selected petrochemical facility in Malaysia's southern state of Johor.
Through this collaboration, Saudi Aramco will supply 50 percent of the refinery's crude feedstock requirements with the option of increasing to 70 percent. Meanwhile natural gas, power and other utilities will be supplied by Petronas and its affiliates.
The refinery, which has a capacity of 300,000 barrels of crude per day, will produce a range of refined petroleum products, including gasoline and diesel, which meet Euro 5 fuel specifications. It will also provide feedstock for the integrated petrochemical complex, which is capable of producing 3.3 million tonnes per annum of petrochemical products. Currently 87 percent completed, the RAPID project is on track for refinery start-up in Q1 2019.