Sanctioned Russian Vessel Draws Scrutiny in South Africa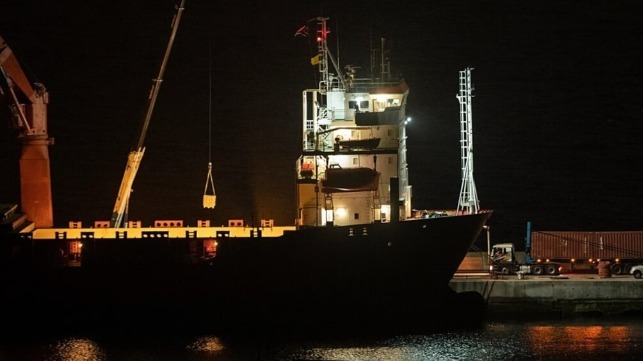 Last month, South Africa's biggest navy base accepted a port call by a sanctioned Russian vessel, and the visit has drawn the attention of American officials.
On December 7, the Russian ro-ro / freighter Lady R arrived at the South African Navy base in Simons Town, located just outside of Cape Town. The vessel's AIS was not transmitting, but eyewitnesses and news agencies captured photos of her distinctive house-forward profile alongside the pier.
This would be a relatively innocuous port call if not for the Lady R's ownership. She is linked to the sanctioned Russian shipowner Transmorflot, which recently rebranded as MG-FLOT. The firm is one of seven that the U.S. Treasury sanctioned in May 2022 in connection with the ongoing war in Ukraine. MG-FLOT's full fleet of 16 vessels was blacklisted, including Lady R.
In the months after she was sanctioned, Lady R kept trading and made port calls in Alexandria, Kolkata and Kochi, returning twice to the Russian Black Sea port of Novorossiysk, based on AIS data provided by Pole Star.
Russian flag roro Lady R, sanctioned by @ustreasury for link to Dagestan based Transmorflot, itself sanctioned under EO14024 'security threats posed by specified harmful foreign activities of the Russian Federation, transited Bosphorus en route from Alexandria to Novorossiysk pic.twitter.com/nfWmr9YHK5

— Yörük I??k (@YorukIsik) May 30, 2022
On her current voyage, she made calls at Lome and Douala in West Africa. However, it is her clandestine port call in South Africa which is of real interest to American officials. Lady R dropped off AIS tracking from December 5-9, bracketing the time period in which she was photographed in Simons Town.
According to the Wall Street Journal, the U.S. government is troubled that South Africa's military accommodated Lady R at a secure facility during her port call. Eyewitnesses told local media that the vessel conducted nighttime cargo operations at the naval base from December 7-9, and containers of unknown provenance were brought into the base during the same time period. The boxes went in and out under escort, according to South Africa's political oppositon.
"These trucks were protected by armed personnel. While trucks transporting containers are not uncommon, it is, however, very unusual for such activities to take place at night," said Kobus Marais, shadow minister of defence for the Democratic Alliance, speaking to The South African. "The vessel should have docked at Table Bay harbor just like other commercial vessels."
The South African government has denied any allegations of impropriety, but defense observers have noted the African National Congress party's long association with Russia. The Soviet Union provided arms and support to ANC rebels during the apartheid era, as well as ideology. These historical ties have not been forgotten. Under President Cyril Ramaphosa, the ANC's leader, South Africa is among the few nations that have remained neutral on the Russian invasion of Ukraine.
As for the Lady R, she has continued her voyage, and she currently appears to be in port at Beira, Mozambique - despite the sanctions measures targeting her owners.